Deutsche Bank drops further as Merkel gives no sign of help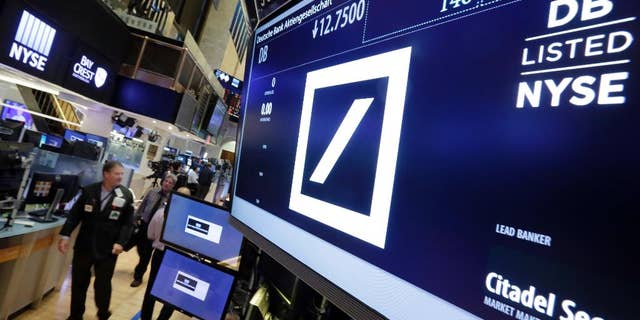 NEWYou can now listen to Fox News articles!
BERLIN – Deutsche Bank shares are down further after German Chancellor Angela Merkel gave no indication that her government might help the group with a U.S. demand for a $14 billion legal settlement.
Merkel told reporters in Berlin on Tuesday that "we naturally hope, even if there are temporary difficulties, that things will develop positively."
But she refused to say if she'd consider stepping in over the U.S. government's demand for a settlement in its investigation of the bank's sales of mortgage-backed securities.
Deutsche Bank shares fell another 2.9 percent to 10.22 euros and are off more than 50 percent for the year as the bank struggles with weak profits and investor concerns.
Deutsche Bank says it hasn't asked for help with the U.S. and isn't seeking a bailout.