Dennis Rodman arrives in Singapore ahead of Trump-Kim summit
Dennis Rodman arrived in Singapore's airport early Tuesday morning to a flurry of cameras and reporters ahead of the historic summit between President Trump and Kim Jong Un. "The Worm" is a mutual friend of both world leaders and previously boasted to have "great" friendships with them.
The former basketball player was bombarded with questions upon his arrival at Changi Airport around midnight Tuesday, hours after Kim was spotted posing for a selfie during a night ahead of his meeting with Trump.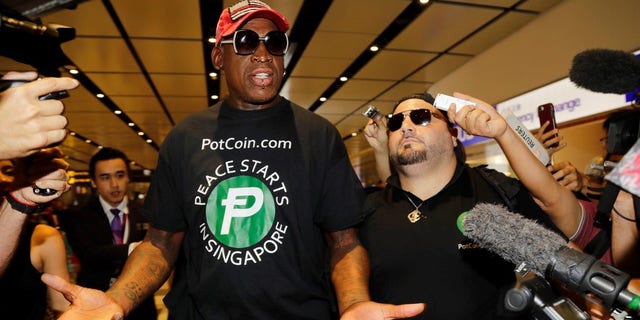 "I'm just happy to be a part of [the historic summit…I think I brought a lot of awareness to people around the world," Rodman told reporters when asked if the meeting wouldn't have happened without the former NBA star.
Rodman also tweeted: "Just arrived to Singapore for the Historical Summit! Looking forward to @POTUS having incredible success that the whole world will benefit by. Thank you @PotCoin for supporting my mission! #Peace #Love #HistoricalSummit #Singapore #PresidentTrump #MarshallKimJongUn"
Rodman, who happens to be the few people who've met both Trump and Kim, made the trip overseas after announcing Friday he will be heading to Singapore to offer "whatever support is needed." Rodman said his trip is being sponsored by his marketing team and a marijuana cryptocurrency firm.
DENNIS RODMAN SAYS KIM JONG UN 'PROBABLY' A MADMAN, 'BUT I DIDN'T SEE THAT'
Despite Rodman's announcement, the White House made it clear last week that the basketball player wasn't invited to come with the team on the trip.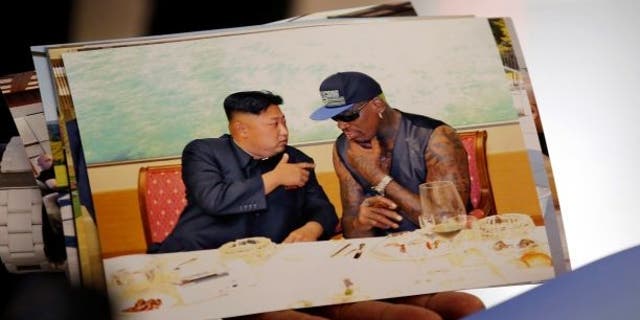 Trump and Kim are expected to meet one-on-one Tuesday morning for the first summit between a U.S. sitting president and a North Korean leader. The former Chicago Bulls star said he believes the meeting should go "fairly well."
But added, "People should not expect so much for the first time."
Rodman has previously spoken fondly of the North Korean dictator, even calling Kim "misunderstood" despite admitting that the despot is probably a "madman." Rodman frequently visited Kim in North Korea starting in 2013, when he held the despot's newborn daughter who has never been seen in the public.
"I've come out here to see my friend," Rodman said in 2013 about his trip to North Korea. "I want to talk about basketball."
KIM JONG UN STEPS OUT IN SINGAPORE FOR NIGHT OUT AFTER MYSTERIOUS TRAVEL PLANS REVEALED
Rodman's history with Trump is fairly brief. He's twice appeared on "Celebrity Apprentice" and he gave a copy of Trump's "Art of the Deal" to the North Korean sports minister during a visit to Pyongyang last June. Rodman has hoped to be the one to facilitate a relationship between Trump and Kim.
"I don't ask Donald Trump for anything. I like Donald Trump," Rodman told TMZ Sports in April. "He's a good friend, and I've always asked him to talk to me because the good people of North Korea and the government asked me to talk to Donald Trump about what they want and how we can solve things."
It's unclear exactly what Rodman will contribute to the summit. When asked Tuesday, Rodman said he doesn't know if he will meet with Kim.
Fox News' Ryan Gaydos contributed to this report.