Daredevil Teen Who Scaled World Trade Center Facing Praise, Backlash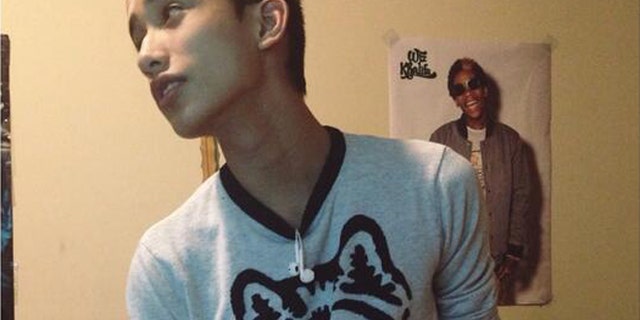 The thrill-seeking teen who made international headlines after eluding security and scaling the World Trade Center was described by friends and neighbors as an extreme sport enthusiast who loved attention.
The New York Post reported Friday that there were no working cameras at the World Trade Center when Justin Casquejo, 16, managed to squeeze through a fence, ambled to the sixth floor of the unfinished building and spent two hours taking pictures. To many, the news was shocking: a teenager somehow managed to breech security at what is supposed to be one of the world's safest sites in what is supposed to be one of the world's safest cities.
And Casquejo, a fearless daredevil from Weehawken, N.J. known for his wild antics, is reveling in newfound fame – he's become somewhat of a local celebrity – though it's been accompanied by some fierce backlash.
"He was always the one climbing the cliffs, doing something stupid," said Casquejo's 18-year-old neighbor Patrick Flores, referring to the cliffs on which Weehawken sits, across the Hudson River from Manhattan, with clear views of the World Trade Center and the rest of the Manhattan skyline. "But that was him — that was his life."
Flores said Casquejo had recently become interested in parkour, the extreme sport that combines elements from martial arts, gymnastics and rock climbing and has become popular thanks to YouTube videos of acrobatic athletes vaulting over obstacles including park benches, trees, guardrails and buildings. According to the Newark Star-Ledger, Casquejo's parents are divorced but both live in Weehawken.
If Casquejo were looking for bragging rights, he could scarcely have picked a more prominent building. Throughout its rebuilding since the Sept. 11, 2001, terrorist attacks, the building once known as the Freedom Tower has been enmeshed in elaborate security plans.
Ultimately, plans call for a $40 million system of barriers and checkpoints around the 16-acre trade center, which includes several towers, the Sept. 11 memorial, a transit hub and other features.
Most of the planned security has yet to be built, but some nearby residents have challenged the measures as overbearing. In a lawsuit last fall, residents said their neighborhood would become a fortress-like environment "as impervious to traffic as the Berlin Wall."
But if Casquejo was looking to boast about his unusual prank he probably didn't expect the negative response. On Twitter, he's been called a terrorist who should be persecuted for climbing such a symbolic building.
But some think he should be hailed a hero.
"He did wrong, but he's showing that there's not enough security in that building," local crossing guard Sivia Mendez told the Star-Ledger.
Casquejo's not accused of doing any damage, but the alleged escapade stirred what-ifs about the notion of someone being able to infiltrate the nation's tallest skyscraper.
"Obviously, it was shocking and troubling," said Mayor Bill de Blasio, "and I don't know how possibly it could have happened."
Joe Dunne, security chief of the bistate port agency that has jurisdiction over the lower Manhattan building, said officials "take security and these types of infractions very seriously."
Casquejo was being held without bail after an arraignment Monday on a criminal trespassing charge. His lawyer, Pamela Griffith, declined to comment. Nobody answered the door Thursday at his Weehawken, N.J., home, and an effort to reach him through someone who answered a possible phone number for him wasn't immediately successful.
Casquejo told police he simply walked around the construction site and found a way through the scaffolding around 4 a.m., according to a court complaint. He squeezed through a 1-foot opening in a fence, said Joe Pentangelo, a spokesman for the Port Authority of New York and New Jersey police.
The court complaint quotes Casquejo saying he climbed to the sixth floor, rode an elevator to the 88th and took the stairs to the 104th. There, he got past an inattentive security guard, a private contractor employee who has since been fired, Pentangelo said.
Casquejo told police, "I went to the rooftop and climbed the ladder all the way to the antenna," according to the complaint.
WABC-TV reported that he took pictures from the top of the building. Authorities said they were trying to determine his motive. He was arrested in the building by a Port authority police officer, and his camera and cellphone were seized, Pentangelo said.
Investigators said they were working to cement where the teen went within the building and whether he might have skirted anyone else along the way.
The security guard's former employer, The Durst Organization, declined to discuss Sunday's incident or say whether other guards were working, but it said it had reviewed its security at 1 World Trade Center and was working "to improve coordination" with the Port Authority, which owns the site.
The Associated Press contributed to this report.
Follow us on twitter.com/foxnewslatino
Like us at facebook.com/foxnewslatino