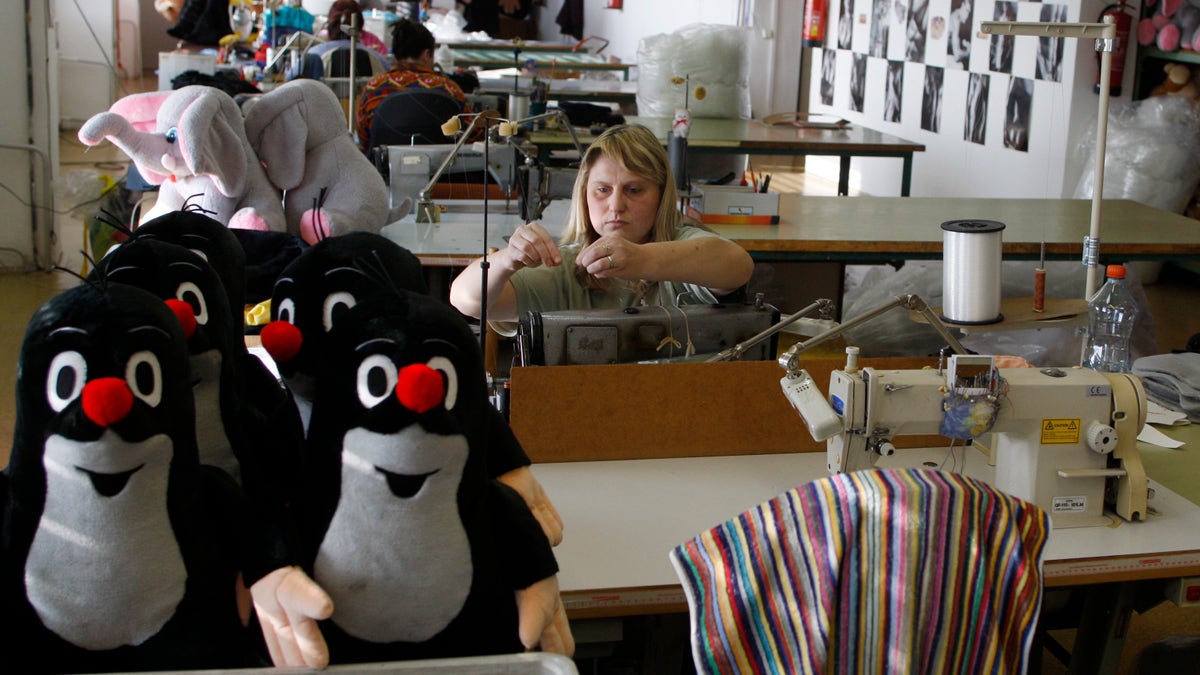 BRNO, Czech Republic -- He's loved by kids around the world and even made it to outer space this year. Little Mole's motto? Smile through adversity, always be positive.
As Europe's economic crisis bites, toy manufacturers here are thriving on that message. Profits are high, new markets are opening and Little Mole, a cartoon character created in 1956 and still going strong, is the unrivaled star.
"The mole is definitely No. 1 for us in all aspects," said Blahoslav Dobes, sales director at a small factory that has sole rights to make "Krtek", as the little stuffed toy with a red nose is known in Czech.
"It's clear: He's a positive hero in these troubled times."
Around Dobes, dozens of women were sewing, cutting and packaging a wide array of products trying to keep up with Christmas orders in 25 countries in Europe, Asia and the United States.
It's a similar happy tale for other toy manufacturers here.
Miroslava Brabcova, co-owner of Olymp, a Czech company that exports its wooden toys to Europe, Japan, Hong Kong and Chile, among others, expects sales to be up some 20 percent this year with eye-catching growth of up to 35 percent in western European markets, including Germany.
"We're not happy about any crisis but we still manage to compensate losses on one market with profits from others -- however tough it may be," she said.
When the Czech economy contracted by 4.7 percent in 2009 during the last global economic downturn, toy sales still rose by three percent that year.
"It's a source of joy for us that the toy sector has not been hit by the crisis," Jiri Stastny, of the Czech Association of Toy and Play, told The Associated Press. "So far, we don't save when it comes to our children -- and it's the same in other European countries."
"Krtek" was created by animator Zdenek Miler, who died Wednesday at age 90. In a limited series of cartoons known by all Czech children, he delights in playing with his friends -- a mouse, hedgehog and rabbit. He helps them from danger, dodges crazy traffic in the big city and in one episode searches high and low for chamomile herbal medicine in the ocean to nurse the mouse back from illness.
"Krtek" proved hugely popular behind the Iron Curtain before the fall of Communism and has since broken into other markets, although English-speaking ones have proven toughest.
His cheery face stares out from shops across Prague -- with a hat, umbrella, in pants, talking or even dancing.
This year, he went where no mole had ever gone before when U.S. astronaut Andrew Feustel took a 7.5 inch stuffed version on the space shuttle Endeavour's last mission. Dobes said staff could barely believe it when the U.S. Embassy called one day to say they had 24 hours to make a version that met all NASA requirements.
"We have licenses to export the mole to particular countries, but not to send him to space," he said.
But the final frontier -- and perhaps most lucrative -- is China, where the mole is riding a wave of popularity after featuring at the 2010 World Expo in Shanghai. The Czech ambassador there says that for the Chinese there's no more famous Czech in the world.
Dobes declined to give profit margins, but proudly said his factory in the south of the country has "been in black numbers for the last 20 years."
Globally, toy sales bounced back quickly from the previous global economic crisis with 4.7 percent growth in 2010 to reach $83.3 billion, according to the NPD Group, a U.S. market research company.
In Europe, there are some 78 million children younger than 14. The major markets in Germany and France were up 7.8 and 7.0 percent, respectively, in the first nine months of 2011 compared with the same period the previous year, according to the Toy Industries of Europe. That's with Christmas season sales that account for some 60 percent of annual revenues not yet factored in.
The Czech Republic is one of the European Union's top exporters -- and international giants like Lego, Simba and Playmobil joined other major western investors in moving to then-Czechoslovakia after the 1989 collapse of communism in search of a cheap but skilled labor force.
Plastic, though, is quietly frowned upon.
"The quality (of Czech toys) is much better. They are classics and people now are returning to the past," said Prague shop assistant Milena Svahorova. "Maybe, they're fed up with the plastic ones because the new toys make children stupid."