Cuban president Raul Castro marks 83rd birthday without fanfare; message from Fidel appears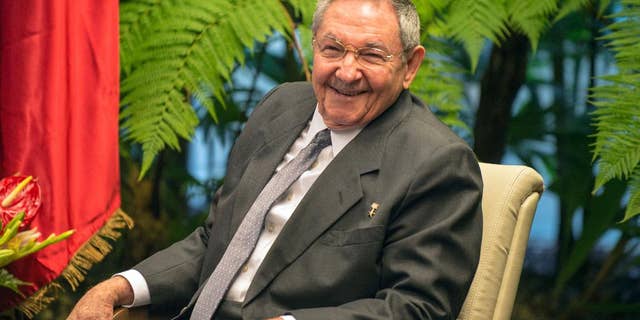 NEWYou can now listen to Fox News articles!
HAVANA – Cuban President Raul Castro was marking his 83rd birthday privately Tuesday, a milestone that passed without fanfare but served as a reminder that his revolutionary generation's time in power is limited.
There was no mention of the birthday in official media. Castro has not made a big production of it in the past, and several Cubans consulted by the AP were unaware it was today.
"I didn't know it was his birthday," said Felipe Rueda, 36. "Raul never talks about that or throws celebrations, and I think that's good because it's something for the family, not the state."
Castro, who has been in power since 2006 when his older brother Fidel was stricken with a life-threatening illness, has said he intends to remain in office no longer than the end of his current term in 2018.
Last year he tapped Miguel Diaz-Canel to be his heir-apparent. He became the first next-generation leader to occupy Cuba's first vice presidency.
Fidel Castro is 87 and rarely appears in public.
But in a sign of how he continues to cast a long shadow from retirement, the front pages of Tuesday's official newspapers carried a brief message from him about the recent funeral of a prominent volleyball coach — the first new writing from Fidel Castro to appear in several months.
"Some people noted the absence of any wreath from us to accompany his coffin," the note said. "I, who always admired him greatly, did not know of his death until several hours later."
For years after leaving office, Castro wrote semi-regular opinion pieces that were published across state media and read aloud in their entirety by TV news anchors.
He said in 2012 that he would stop publishing the columns, though pieces still appear occasionally.
__
Associated Press writer Anne-Marie Garcia in Havana contributed.
___
Peter Orsi on Twitter: www.twitter.com/Peter_Orsi