Cuba Airs New Photos of Chavez Meeting With Castro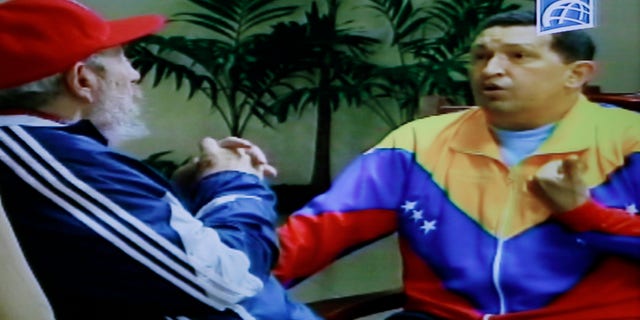 CARACAS, Venezuela – New videos and photos of President Hugo Chavez appeared on state television Tuesday night, showing him on his feet and talking with Fidel Castro more than two weeks after undergoing urgent surgery in Cuba.
An aide to the Venezuelan leader said the encounter in Cuba took place earlier in the day.
"We see him recovering," Information Minister Andres Izarra said on state television as the short video clips and photographs were shown of Chavez standing and talking outdoors with Castro.
Cuban state TV also broadcast pictures of the get-together.
They were the first images of Chavez to be released since he appeared with both Fidel and Raul Castro in photographs taken 11 days earlier and published in Cuban media.
But neither the new images nor government officials provided details about Chavez's health. Despite assurances that he is doing well, the lack of information since the government announced June 10 that Chavez had undergone pelvic surgery has spurred talk among Venezuelans that he might be very ill.
Officials did not say when Chavez might return to Venezuela, which next week will be celebrating the 200th anniversary of its independence from Spain.
Chavez seemed healthy and animated as he talked and smiled alongside Castro in a courtyard fringed with trees, and also sitting down indoors. Chavez wore a track suit jacket with the colors of Venezuela's flag while Castro sported a red baseball cap and a blue and white track suit.
"There we are seeing commander Chavez very dynamic," Izarra said, describing the images and adding that he spoke with Chavez earlier Tuesday about government-related issues.
At one point in the video, Chavez and Castro look at a copy of what appears to be the Tuesday edition of Cuba's Communist Party newspaper Granma and are apparently discussing it.
"There we saw the president sharing a moment with Fidel," Izarra said. "They discussed different current events."
The words of Chavez and Castro were inaudible, and Venezuelan folk music played during the short presentation of video clips and photos.
Some of Chavez's political opponents were not convinced Chavez looked healthy in the videos broadcast Tuesday.
"I saw him looking very thin. His face looked very thin," Gustavo Azocar, an opposition politician, said after watching the report.
"I find it strange that state television shows the president talking with Fidel Castro, but it does not broadcast him talking to the country," Azocar added in a telephone interview.
Opposition politicians have complained that the government has not provided adequate information about Chavez's health, and some have suggested the president should temporarily cede his duties to the vice president.
The normally loquacious Chavez, who Venezuelans are used to seeing in near daily television appearances, has been unusually quiet since the surgery more than two weeks ago. In his only comments that have been heard back home, he told Venezuelan state TV on June 12 that the operation removed a pelvic abscess.
His silence and seclusion since then have spurred growing speculation that he might be seriously ill. The leftist president's political allies have insisted he is improving and is firmly in control of affairs in Venezuela.
On state television, Izarra held up a document that he said Chavez had signed earlier Tuesday approving funds for a government housing project.
Izarra's Twitter account carried a message earlier in the day suggesting Chavez is energetically tending to day-to-day duties, but it did not provide details of his health.
The information minister's tweet said Chavez is governing "like a dynamo" following the operation.Cuban state television also broadcast a one-minute segment on the meeting showing the same pictures, including some with Chavez's daughter Rosa sitting with the two men. It said the two longtime friends "reminisced about the past" in the company of family members.
Cuba's report also gave no details about Chavez's health, but said Wednesday afternoon's newscast would offer more information about the encounter.