Criminals make up large part of Mexico's vigilante groups, prosecutor says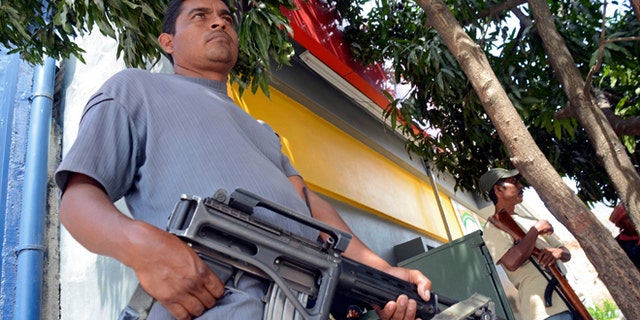 MEXICO CITY (AP) – The chief prosecutor in the western Mexico state of Michoacán said Tuesday that criminals made up a large percentage of the "self-defense" vigilante movement that sprang up nearly three years ago to challenge a local drug cartel.
The comments by Michoacán state prosecutor José Martín Godoy were the most open recognition yet the groups that arose in 2013 to fight the Knights Templar cartel included a large number of former gang members, many known as "forgiven ones" after apologizing for their crimes.
Godoy told local media that about half the vigilante movement's leaders were honest, but the other half were drug traffickers or other criminals.
"In the self-defense groups, half of them rose up to create conditions of peace and tranquility and detain the criminal groups, but the other half, and the public knows this, were the well-known 'forgiven ones' who were part of a criminal group," Godoy said.
"There were a lot of people taken in to these (vigilante) groups, who in the end were involved in the criminal activities, in (synthetic drug) laboratories and drug trafficking," he said.
Hipólito Mora, one of the founders of the vigilante movement who has battled other self-defense groups he branded corrupt, said Tuesday that there had long been signs of rotten eggs in the movement.
"The self-defense forces were infiltrated ... and the infiltrators passed themselves off as self-defense leaders," Mora said, adding: "At last, (Godoy) has publicly acknowledged that some self-defense leaders are criminals ... it took a while."
Godoy's statement came in response to the discovery Monday of the bullet-ridden bodies of four men dumped by a roadside in Michoacán.
One of the dead men was identified as Carlos Rosales Mendoza, 53, alias "El Tisico," or "The Tubercular One." Rosales Mendoza was one of the founders and leaders of La Familia Michoacana cartel and then the Knights Templar cartel, which arose from the remnants of La Familia.
Those gangs systematically extorted money from Michoacán residents and killed and kidnapped people until the vigilante movement rose up to fight them.
Godoy said Rosales Mendoza had been meeting with vigilante leaders before, including possibly at the time of his killing.
"Everything indicates that recently, he (Rosales Mendoza) had begun to have contact with some leaders of the self-defense group, he began to have meetings," Godoy said. "He went to a meeting ... and everything indicates that things went wrong and they killed him there."
Like us on Facebook
Follow us on Twitter & Instagram