Conscientious Objector Initially Denied U.S. Citizenship Is Now An American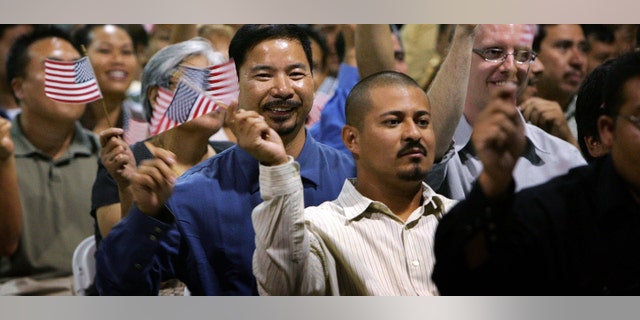 NEWYou can now listen to Fox News articles!
Immigration officials have reversed their decision to deny U.S. citizenship to a Colombian woman who refused to sign a pledge to bear arms, in defense of the United States, on her naturalization application.
Adriana Ramirez, who lives in California and obtained permanent legal status in 2008, applied for U.S. citizenship late last year and expressed an objection to the part that asks about the willingness to bear arms to defend the country.
The United States Citizenship and Immigration Service rejected the application, saying that objecting to bearing arms was allowed only when based on "religious training and belief."
Ramirez, who characterized herself in her explanation to USCIS as an atheist, said her objection was based on personal convictions.
Ramirez wrote that while she could just have checked yes and "sealed the envelope," she preferred to be truthful and say that bearing arms would go against her principles.
"Checking 'yes' on Q36-38 would be a betrayal of everything I have stood for from a very early age," Ramirez said. "I have strong and sincere moral convictions against arms and killing people."
She added, "I co-founded a journal focusing on non-violence, and have worked ever since to build the foundations of peace. If I were to sign the oath as it is, I would be withholding important information about who I am, only for the benefits of citizenship. . . . Therefore, I prefer to truthfully present my moral objection to this portion of the oath."
The American Humanist Association, a national non-profit group to which Ramirez turned for help after the denial of her application, wrote to the San Diego office of the USCIS to challenge the decision.
"Because her conscientious objector claim is based on secular rather than theistic moral views, her application was denied," said the AHA letter. "This denial is unconstitutional."
The organization argued that the U.S. Constitution protects the right to secular moral beliefs.
Monica Miller, an attorney with AHA, told Fox News Latino that Ramirez, who could not be reached for comment, received a letter from USCIS about a week ago telling her to show up for her citizenship ceremony this week.
"It could have been oversight" by the agency, Miller said, "but it was unconstitutional."
USCIS spokeswoman Joanne M. Ferreira said the agency could not comment on Ramirez's case because of privacy laws.
Miller said that AHA successfully challenged a similar case last year involving a Texas woman.