Colombian rebels say peace negotiator among guerrillas killed in attack by military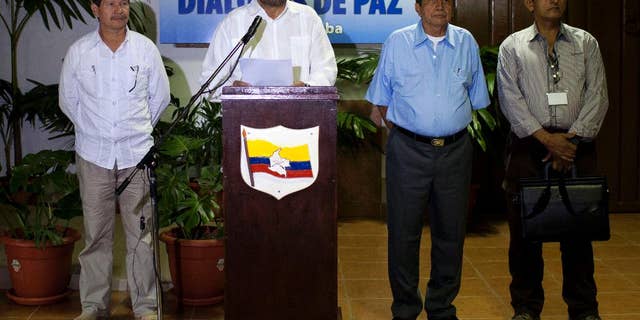 BOGOTA, Colombia – Leftist rebels in Colombia claimed on Wednesday that one of their most-veteran fighters, a former envoy to peace talks with the government, was killed during a military raid last week.
The Revolutionary Armed Forces of Colombia said in a statement that the guerrilla known by the alias Jairo Martinez was among 27 rebels killed in an attack on a jungle camp in southwestern Colombia.
Martinez, whose real name is Pedro Nel Daza, had been a close confidant of the FARC's ruling secretariat and was last year seen in Havana advising negotiators trying to bring an end to Colombia's half-century conflict.
The FARC says the 63-year-old was visiting troops to discuss progress at the peace table when they were surprised by the air and ground assault.
While Martinez wasn't one of the handful of FARC peace negotiators, he did in the past form part of the delegation at the talks. He had also played a prominent role in a previous attempt at peace talks that ended in 2002.
President Juan Manuel Santos has yet to comment on the rebel's death. But analysts and many leftist activists say the intensification of military action against rebel targets is eroding confidence in the peace process.
"The government has to explain why a person involved in the peace process has ended up dead in a military action," Sen. Ivan Cepeda of the leftist Alternative Democratic Pole party told The Associated Press.
In April, Santos lifted a suspension of aerial bombings in retaliation for the FARC's killing of 10 soldiers during a midnight attack on an army patrol unit while it was sleeping.
In the past week, government forces have launched three raids on rebel camps resulting in 38 deaths.
The FARC has also hardened its position. Following the raid that killed Martinez last week, negotiators in Havana decided to lift a unilateral cease fire in place since December that had been intended to give a boost to the talks.
Representatives of the guarantor nations at the Havana peace talks, Norway and Cuba, expressed concern Wednesday about the "escalation of the armed conflict in Colombia" and called for a cease-fire on both sides.
Tensions from the recent bloodshed "undermine confidence gained in the two years of negotiations," said the statement from Dag Nylander of Norway and Rodolfo Benitez of Cuba.
___
Joshua Goodman on Twitter: https://twitter.com/apjoshgoodman