Colombian president to be operated on for prostate cancer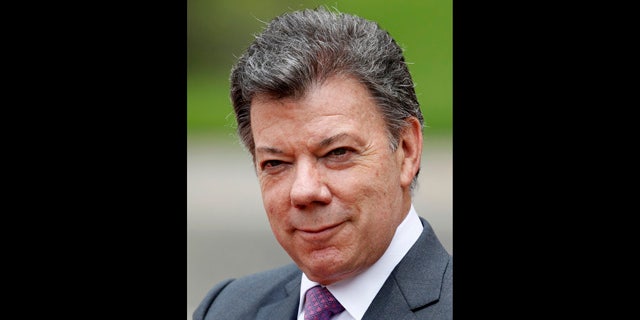 BOGOTA, Colombia – Colombian President Juan Manuel Santos announced Monday that he has prostate cancer. He said the tumor was caught early and would be removed this week.
The 61-year-old Santos told reporters in announcing the cancer at the presidential palace, his wife Maria Clemencia at his side, that he has a 97 percent chance of a full recovery.
"It is not an aggressive cancer," Santos added.
He said he planned to fly to Lima, Peru later Monday for a summit of South American and Arab leaders and then undergo surgery on his return to Bogota on Wednesday.
Santos said the surgery would be performed under local anesthetic so he would not need to relinquish temporarily his presidential responsibilities.
Santos said his doctors told him the surgery places him in no danger, "but they have recommended that after the surgery and after I leave the hospital, I don't travel for several weeks."
He was also joined by his doctor, Felipe Gomez, who characterized Santos' situation as "common among men."
The news comes two years into Santos' four-year term and with his government about to begin formal peace talks this month with Colombia's main leftist rebel group.
Santos said his medical records would be completely public. That contrasts sharply with the president of neighboring Venezuela, Hugo Chavez, who has refused to release medical records regarding the cancer that was identified last year and for which he has been treated in Cuba.
Santos did not say exactly when the cancer was detected but he said it was found by his doctor in Colombia after a routine annual physical and confirmed by specialists at Memorial Sloan Kettering hosptial in New York during his visit last week for the U.N. General Assembly.
"This could happen to anyone. Prostate cancer is much more common than people imagine," said Santos. "I am calm because this cancer was detected very early thanks to my discipline in repeating medical exams year after year."
Santos said he has a family history of prostate cancer and that his older brother, Luis Fernando, had exactly the same operation 14 years ago "and today is in perfect health."
Santos said that because of the family history he had a Protein-Specific Antigen test. When it indicated an abnormal increase, he said, his doctor decided to do a biopsy. And that's when the cancer was discovered.
Dr. Gomez coincided with Santos that the cancer had been caught early and said "that if all goes as it should I hope he will recover quickly and continue to be our president."