Colombian capital rocked by dual bombings that leave 8 wounded, police say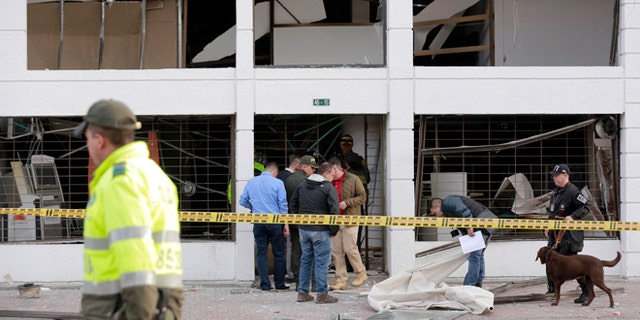 Bogotá, Colombia (AP) – Two bombs exploded in different parts of Colombia's capital Thursday, wounding eight people in attacks that appeared aimed at a private pension fund, authorities said.
Officials said none of the wounded suffered serious injuries.
The first blast occurred in offices of the Porvenir fund in the financial district of Bogotá and seven people were injured there, city Health Secretary Mauricio Bustamante said. The eighth victim was wounded by a blast at a Porvenir branch in the Puente Aranda area in the west of the city.
Gen. Humberto Guatibonza, commander of the Bogotá Metropolitan Police, said investigators were interviewing witnesses and reviewing footage from security cameras in the areas around the two explosions.
Defense Secretary Luís Carlos Villegas said the explosions were meant to intimidate people and called whoever was behind them terrorists.
President Manuel Santos's office said he was returning early from a trade conference in Peru to oversee the investigation.
No one claimed responsibility for the blasts, which came at a time of increased tensions between the government and the country's biggest rebel movement, the Revolutionary Armed Forces of Colombia. Both sides in Colombia's five-decade conflict have been stepping up attacks in recent weeks, putting strains on peace talks that have been going for two years in Cuba.
Although speculation was rife that the attacks were orchestrated by the FARC, there wasn't any immediate evidence linking the rebels to the blasts. Colombia's criminal gangs are known to detonate small explosives as a way to intimidate extortion targets.
The explosion in the financial district happened seven blocks from U.S. Ambassador Kevin Whitaker's official residence, where he was hosting dozens of people at a reception to celebrate the Fourth of July.
Like us on Facebook
Follow us on Twitter & Instagram