Colombia works to salvage Spanish treasure ship loaded with estimated $1 billion in gold, jewels
NEWYou can now listen to Fox News articles!
Colombia is making progress in salvaging the San Jose, a centuries-old Spanish ship believed to be carrying $1 billion worth of gold, silver and gems, the country's president said Wednesday.
The ship, which sank in 1708, was found in 2015 by the Colombian navy and the country's archaeology institute near the port of Cartegena.
The San Jose's manifest showed it was carrying jewels and coins worth an estimated $1 billion, but analysts say the crew may have smuggled extra loot on board, National Geographic reported.
"All this precious cargo was taken away from the indigenous people" of the Americas, Charles Beeker, Director of the Center for Underwater Science at Indiana University, told the magazine. A British warship attacked the San Jose, causing it to sink.
COLOMBIA: HOLDOUT REBELS HAVE FREED HOSTAGE UN CONTRACTOR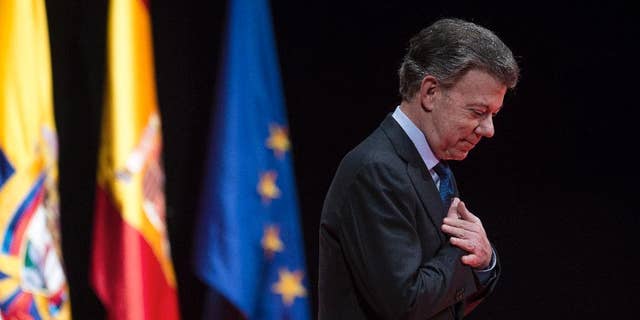 Colombian President Juan Manuel Santos got a proposal from an investor to bring the San Jose to the surface; however, he did not disclose the investor's name or the terms of the possible deal. "Questions about navigation, world trade, about colonial costs, will be answered," he said Wednesday.
The San Jose was part of the fleet of King Philip V, who fought the English during the War of Spanish Succession and around 600 people died in the ship wreck, Reuters reported.
So far, sonar images revealed bronze cannons, arms, ceramics and other artifacts in the wreckage.
TOP COLOMBIAN REBEL LEADER IN INTENSIVE CARE AFTER STROKE
The Colombian government and the company originally agreed to split proceeds from the wreckage, but the government later said all the treasure would belong to Colombia, a view backed by a U.S. court in 2011.
Santos said the Colombian government will accept further offers to recover the ship and a museum will be built to showcase the artifacts.