Coca-Cola's largest bottler in Mexico suspends operations over safety concerns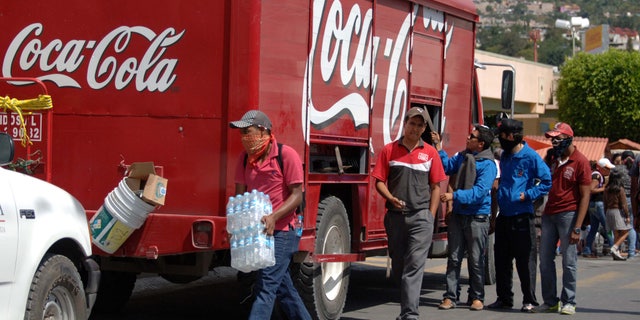 MEXICO CITY (AP) – Coca-Cola's largest bottler in Mexico has temporarily suspended operations in the capital of the embattled state of Guerrero following attacks on its workers and its trucks.
Alma Beltran, a spokeswoman for Coca-Cola Femsa SA, says the decision to stop supplying Chilpancingo was to "guarantee the safety of our personnel" while the viability of operations in the area is evaluated.
The decision comes amid protests in the southern state around the disappearance of 43 students. Protesting students and teachers have regularly blockaded roads and taken over vehicles delivering everything from milk to snacks.
The conflict reached a new level on Wednesday when protesters temporarily detained employees of Coca-Cola in response to what they said was a theft report filed by the company. Ten people were injured during what police described as an attempt to attack Coca-Cola's offices in Chilpancingo.
The conflict ignited anger in a business sector already frustrated by struggles to operate in the social turmoil.
Since the students disappeared on Sept. 26, Coca-Cola has lost 250 trucks to robberies or attacks, according to the Employers' Confederation of Mexico in Guerrero. Protesters have also attacked other big companies, such as Comercial Mexicana department stores, Oxxo convenience stores and trucks for Bimbo, one of the largest food conglomerates in the world.
The students disappeared at the hands of local police working with a drug cartel, which killed the young men and burned their bodies, the federal attorney general has said. Relatives of students dispute the government's version.