Clashes in south Yemen kill 6 Al Qaeda militants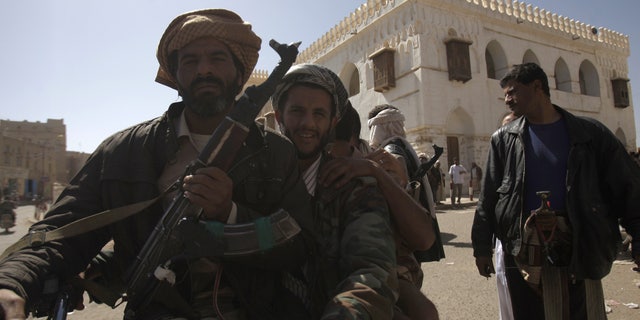 SANAA, Yemen -- Fresh clashes in southern Yemen have killed six Al Qaeda militants and injured 10 soldiers, military officials said Wednesday.
The fighting southeast of the city of Zinjibar is the latest since militants seized a number of towns in the area last spring. Yemeni forces have so far failed to push them out.
Security across Yemen, the Arab world's poorest country, has largely collapsed during the nearly year-old popular uprising seeking to oust longtime autocratic President Ali Abdullah Saleh.
The militants have exploited the security vacuum, stepping up operations across the weakly governed provinces while authorities focused their resources on putting down the uprising that was inspired by other Arab Spring revolts.
Saleh handed over power to his deputy before leaving Yemen on Sunday, on his way to the United States for treatment for burns sustained during a bomb attack at his palace mosque last year.
Under a U.S.-backed deal brokered by Yemen's powerful Gulf neighbors, Saleh's vice president, Abed Rabbo Mansour Hadi, is likely to be rubber-stamped as the country's new leader following Feb. 21 presidential elections in which he is to be the only candidate.
Saleh, who is currently in the Gulf sultanate of Oman, is expected to fly to the U.S. in the coming days. American officials have said that while his trip is only for medical purposes, they hope his absence from Yemen will ease the transitional period.
During his 33-year rule, Saleh used a combination of sly politics and brute force to ensure his control and put close relatives and members of his tribe in charge of key state institutions -- posts that most of them still hold.
Saleh has said that after his treatment, he plans to return to Yemen to head his General People's Congress party.
The U.S. and Saudi Arabia have tried to ensure a peaceful transfer of power out of fears that further chaos in Yemen will give the Al Qaeda branch an even freer hand.
Last year, the group seized a number of towns in the country's south. Two days of clashes in Zinjibar, the capital of Abyan province, have killed six militants and injured 10 soldiers, military officials said Wednesday, speaking on condition of anonymity under military rules.
Also Wednesday, residents of the city of Radda, 100 miles south of the capital Sanaa, held street celebrations, firing guns in the air to celebrate the withdrawal of Al Qaeda gunmen from their town.
The gunmen took the town last week and withdrew late Tuesday after negotiating the release of 15 prisoners with local tribal leaders.