Choking dog saved in New York thanks to quick-thinking Port Authority officer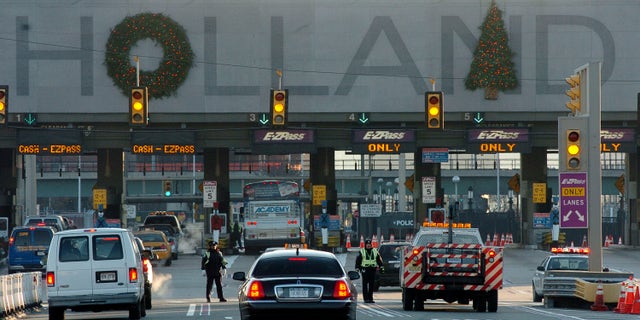 NEWYou can now listen to Fox News articles!
A pooch choking to death on a dog treat got an emergency escort to the vet after some quick thinking by a Port Authority cop in New York City.
Julius, a 10-year-old Maltese, was enjoying a doggie treat when he began choking inside of his Jersey City home on Easter Sunday, according to the New York Daily News.
Desperate attempts by his owners Michael and Lindsay Torres failed to dislodge the doggie bone.
So they borrowed a car owned by their building's concierge and high-tailed it to Manhattan in hopes of finding a vet open on the holiday, she said.
But the couple hit the Holland Tunnel, known for its slow-moving traffic.
Lindsay Torres said they flagged down Port Authority police officer Thomas Feuker, who was stationed on the New Jersey side of the tunnel for help.
"I really need your help. He's choking. We need to go to an animal hospital," she recalled to the Daily News.
She said Feuker made his own attempts to dislodge the doggie treat, but was unsuccessful.
He then ushered them all into his car and took them seven miles to the New Jersey Veterinarian Emergency Medical Service, a PAPD spokesman told the Daily News.
"It definitely made it faster. He knew the easiest way to go and they were actually blocking off some roads (on the route)," Lindsay Torres said. "At that point, every second counted."
The vet said they made it just in time, she added.
On Monday, Julius was doing much better.
"He's doing great. He's eating, he's drinking, he's really looking good," Lindsay Torres said. "I'm really grateful for (Feuker). Without him, I don't know if Julius would be here. I'm very grateful for him taking the situation as seriously as he did."