Chelsea would have got penalty, says Lambert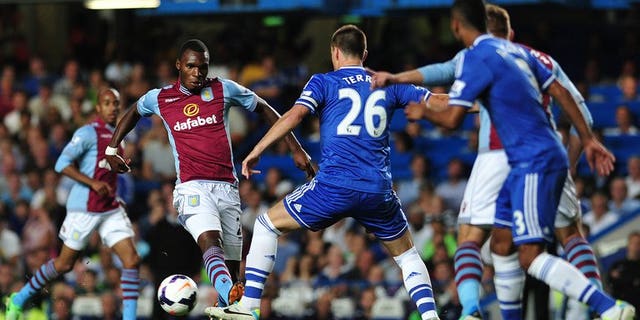 NEWYou can now listen to Fox News articles!
LONDON, England (AFP) – Aston Villa manager Paul Lambert on Thursday claimed that his side were the victims of double standards after being denied a late penalty in their Premier League defeat at Chelsea.
With Chelsea leading 2-1 in injury time of Wednesday's encounter at Stamford Bridge, home captain John Terry appeared to use an outstretched arm to block the ball inside the hosts' penalty area.
However, referee Kevin Friend allowed play to continue, having earlier angered Lambert by failing to penalise Chelsea defender Branislav Ivanovic for catching Villa striker Christian Benteke with a flailing arm.
Ivanovic was only booked, and went on to score the game's winning goal.
Speaking the morning after the game, Lambert once again refused to divulge the content of his post-match discussion with the referee but said that Chelsea would not have been denied a penalty had they made an appeal in similar circumstances.
"I spoke to Kevin afterwards, and obviously what is said in there stays in there. But I didn't need to speak to him really," he said.
"It was a clear handball. It's a stone-waller, a clear penalty. I don't care what anyone says, that is a penalty.
"Gabby (Agbonlahor) has won the header and it has hit John's hand. I'm pretty sure if it had been down the other end, it would have been given."
Lambert and Mourinho appeared to get involved in some spiky exchanges on the touchline during the match, but the Villa manager said their conversations had been lighthearted.
"I was calm last night," he said.
"I think there has been a lot made of me and Jose in the technical area. There was the odd little thing, but there was a lot of banter between us."
Mourinho said in his post-game press conference that Lambert had complained about "every, every, every decision", but the Scot said: "So did he. It is the same. The two of us were shouting at referees and officials and everything.
"I'm not going to go there and lie down, and neither is Jose. A lot has been made of me moaning -- he does his fair share as well, just to let you know.
"It is not a problem. We had a bit of banter between us and I saw him afterwards. I like him and he is a brilliant football manager. There was never a problem."