Chavez's Day: Meet Sean Penn, Defend Oil Sales to Syria, Call Opponent a "Pig'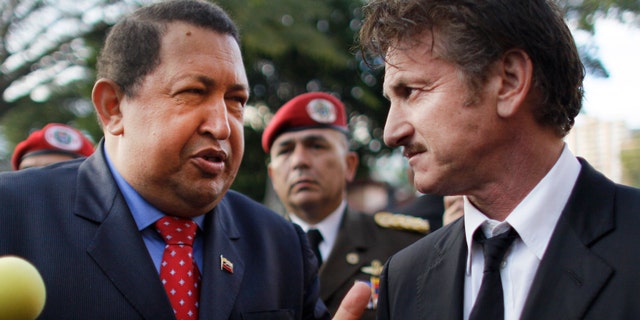 Caracas – Venezuelan President Hugo Chávez had a busy day on Thursday.
In between meeting Oscar-winning actor Sean Penn and castigating his political opponent Henrique Capriles as a "low-life," the feisty Venezuelan leader had time to defend his country's freedom to sell oil abroad, including to conflict-ridden Syria.
"Have we accepted that anyone impose conditions on us for selling oil to the United States, or anyone else in this world? We're free," Chávez said, after the U.N. General Assembly condemned Syria and its President Bashar Assad for the bloody crackdown on government opponents.
Chávez did not, however, say whether Venezuela has shipped fuel to Syria, which is under sanctions imposed by the U.S. and other countries.
"Have we asked the United States what it does with the fuel that we take to the United States?" Chávez added. "The greater part of the streets of Washington are paved with Venezuelan asphalt."
Chávez, who commented while standing with Sean Penn at the presidential palace, noted Venezuela sells large amounts of oil to the United States, which remains its largest customer despite years of strained relations.
Venezuelan Beauty Queen Turned Breast Cancer Crusader Dies
Chávez has accused the United States and its allies of provoking violence in Syria in order to try to oust Assad. The Venezuelan leader has said it seems to be a similar pattern to events in Libya that led to the overthrow and killing of Muammar Qaddafi.
Last year, the U.S. government imposed sanctions on Venezuela's state oil company, Petróleos de Venezuela SA, saying it had delivered to Iran at least two cargos of refined oil products worth about $50 million.
Those sanctions have had little impact. The sanctions bar the Venezuelan oil company from any U.S. government contracts and from export licenses for sensitive technology, but don't prevent it from selling oil to the United States.
After meeting with Chávez at Venezuela's presidential palace, Penn took questions from reporters including one about criticisms of Chávez by some Republican candidates.
Penn said he doesn't think "the use of those exploitive sort of demonizations will be very beneficial to this crew of candidates."
"That would be the least amongst their weaknesses," Penn said. "It's never predictable what can happen in an American election, but we certainly believe at this point that it's becoming increasingly clear to the American people that the policies of the far right are the policies of the rich, and that they are to the exclusion of the middle class and the poor, and that no society has a future on that basis."
Venezuela's "Devil Dancing" Festival
Penn has met with Chávez several times in Venezuela and has a friendly relationship with the leftist leader.
Penn attended a speech by Chávez earlier. The president joked that he thought the actor would be joining the left-leaning Bolivarian Alliance, or ALBA bloc, which includes some of Venezuela's closest allies in Latin America and the Caribbean.
Penn "is a good friend, not only ours, of the cause of humanity, of peace in the world," Chávez said during the televised speech to graduating medical students.
Chávez lauded Penn's efforts to provide assistance to Haitians after the devastating 2010 earthquake hit that poor Caribbean country. The actor, who has been named a goodwill ambassador by Haiti's government, thanked Chávez for his support.
During a a speech broadcast on state radio and televison later Thursday, Chávez attacked the new opposition candidate for the country's highest office as a "low-life ... pig."
As the country's election season gets underway, Chávez said of opposition candidate Henrique Capriles that, "you have a pig's tail, a pig's ears, and you snort like a pig," according to AFP.
On Sunday, the 39-year-old Capriles won an overwhelming victory in an opposition primary. He was quickly vilified in a campaign in Venezuela's state-run media, which insinuated he was a homosexual and a Zionist agent.
Mexicana Flight Attendants Turned Calendar Girls Feud after Becoming Sensations
Earlier this week, Chávez, in power since 1999, also accused Capriles of being "the candidate of the bourgeois, of capitalism, of imperialism."
Capriles won more than 1.8 million votes out of more than three million votes cast, stunning the government, which predicted a far smaller turnout.
Although Chávez is still popular with many poor Venezuelans, the country is afflicted with the world's highest inflation rate and suffers from a wave of violence, shortages of basic foods and frequent power blackouts.
Based on reporting by Newscore, AFP and The Associated Press.
Follow us on twitter.com/foxnewslatino
Like us at facebook.com/foxnewslatino