Charlie Gard's disease and legal case: An explainer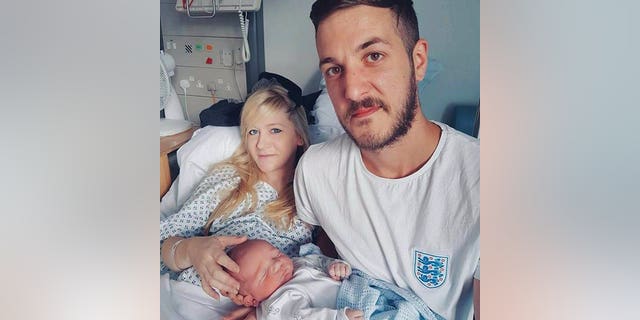 Charlie Gard, the critically ill British baby who has made international headlines, should be moved from a hospital to a hospice, according to a Thursday ruling.
The order came after Chris Gard and Connie Yates, Charlie's parents, and Great Ormond Street Hospital, where Charlie is being treated, did not meet a deadline to agree on an end-of-life care plan.
Judge Nicholas Francis said that meant the 11-month-old baby should now be transferred to a hospice and have his ventilator removed.
Great Ormond Street Hospital (GOSH) said in a Thursday statement that it is going to "arrange for Charlie to be transferred to a specialist children's hospice, whose remarkable and compassionate staff will support his family at this impossible time."
The hospital called it "a very special place who will do all they can to make these last moments as comfortable and peaceful as possible for Charlie and his loved ones."
On Monday, Gard and Yates dropped their legal bid to send him to the U.S. for experimental treatment after new medical tests showed it could no longer help.
The lawyer for the parents said the couple was withdrawing their appeal during a London High Court hearing. As the couple wept, lawyer Grant Armstrong said recent medical tests on Charlie showed the baby has irreversible muscular damage.
"It's too late for Charlie," Armstrong said. "The damage has been done."
Charlie's parents later sought to take the baby home to die, but Great Ormond Street Hospital said it was not practical. At an emotional hearing on Wednesday, the judge said Charlie would, inevitably, end his days in a hospice. Yates left the hearing in tears.
Charlie's parents raised more than $1.6 million to take their son to the U.S. for an experimental treatment. Charlie suffers from a rare genetic condition that has left him with brain damage and on life support.
Great Ormond Street Hospital had intended to turn off the baby's life support as multiple courts have ruled that prolonging the baby's life would only cause him greater pain.
A British court granted a fresh hearing earlier this month as the hospital said a team of doctors presented it with "new evidence relating to the potential treatment for [Charlie's] condition."
Dr. Michio Hirano of Columbia University – who specializes in treating rare genetic disorders – met with the specialists treating Charlie last week. And the House Appropriations Committee voted to give Charlie and his parents permanent residency in the U.S. as they sought treatment.
But as doctors and parents came head-to-head in court over Charlie's future, it became too late for further treatment, Armstrong said.
"Due to the delay in treatment that window of opportunity has been lost," Armstrong said.
Charlie's parents now plan "to spend the maximum amount of time they have left with Charlie."
Charlie's case has drawn worldwide attention from religious leaders, celebrities and President Donald Trump.
Read on to find out more about Charlie Gard and the case that's gone international.
Who is Charlie Gard?
At 11 months old, Charlie Gard suffers from the rare genetic condition Mitochondrial DNA depletion syndrome. He has brain damage and is unable to breathe on his own.
Charlie was born on Aug. 4, 2016, according to a GoFundMe account set up by his mother. While he was healthy at birth, Charlie soon took a turn for the worse.
"We took him into [the] hospital at 8 weeks old and none of us have been anywhere near home since," Yates wrote.
WHITE HOUSE OFFERS LAST CHANCE FOR CHARLIE GARD
He has been receiving treatment at Great Ormond Street Hospital in London since October.
Charlie's parents had hoped to take their son to the U.S. for an experimental treatment, but doctors disagreed, arguing that prolonging his medical care would just prolong his pain and suffering.
Yates said there is a new oral medication treatment available which "could potentially repair Charlie's [mitochondrial DNA] and help it synthase again by giving him the naturally occurring compounds that his body isn't able to produce."
CHARLIE GARD: US DOCTOR MEETS WITH UK SPECIALISTS TREATING TERMINALLY ILL BOY
What is Mitochondrial DNA depletion syndrome?
Mitochondrial DNA depletion syndrome is an inherited disease that damages the body's organs as it blocks energy from getting to organs.
Since the brain, heart, liver, muscles and kidneys all use a lot of energy, those organs can be affected the most by a mitochondrial disease, according to the Cincinnati Children's Hospital. The respiratory system can also be affected.
TRUMP ENTERS CHARLIE GARD DEBATE: 'WE WOULD BE DELIGHTED' TO HELP
While symptoms can vary among people who have mitochondrial diseases, those affected can experience muscle weakness, heart disease, seizures, breathing problems and developmental delay, according to the hospital.
For Charlie, "his brain, muscle and ability to breathe are all severely affected," a professor who specializes in mitochondrial diseases said about the baby. "In addition, he has congenital deafness and a severe epilepsy disorder."
While there are no cures yet for mitochondrial diseases, there are some treatments available that can reduce symptoms. However, treatments aren't guaranteed to work for every person, according to the Cincinnati Children's Hospital.
Vitamins, cofactors and therapies have been helpful for some patients.
Respiratory failure is the most common death among those affected with the disease, according to the National Institute of Health's online library. And rarely do those inflicted with the disease survive into adolescence or adulthood, according to NIH.
So why did the UK legal system intervene in this case?
Specialists at Great Ormond Street Hospital said they had exhausted all proven treatment efforts and wanted to take Charlie off life support. But Charlie's parents pushed back and argued that they should be able to take their son out of the country for experimental treatment.
Doctors at the hospital went to the legal system and asked the courts to decide if they could remove Charlie from life support, without parental consent, if they deemed it to be in the child's best interest.
In April 2017, a judge ruled that doctors could take Charlie off life support.
PARENTS OF BRAIN-DAMAGED BABY LOSE FIGHT TO KEEP HIM ON LIFE SUPPORT
"It is with the heaviest of hearts but with complete conviction for Charlie's best interests that I find it is in Charlie's best interests that I accede to these applications and rule that GOSH may lawfully withdraw all treatment save for palliative care to permit Charlie to die with dignity," Francis said.
Charlie's parents appealed that decision — and others — until they reached the European Court of Human Rights (ECHR) and asked it to hear their case. The ECHR, in Strasbourg, France, rejected the plea and sided with the other courts' decisions.
The court's decision is "final," according to the Telegraph.
But the hospital applied for a new hearing after it said it received "new evidence relating to potential treatment for his condition."
Seven medical experts disclosed to the hospital unpublished data relating to a potential cure for Charlie's brain damage.
"Two international hospitals and their researchers have communicated to us as late as the last 24 hours that they have fresh evidence about their proposed experimental treatment," a hospital spokesperson said.
The hospital said that its view on Charlie's treatment had not changed but wanted to give "the High Court the opportunity to objectively assess the claims of fresh evidence."
CHARLIE GARD AMENDMENT PASSES HOUSE COMMITTEE, AWAITING FLOOR VOTE
"We believe, in common with Charlie's parents, it is right to explore this evidence," the spokesperson said, according to the BBC.
As the new hearing got underway on July 10, Francis gave the couple a few days to gather new evidence to present.
What has been the response from world leaders?
"I am confident that Great Ormond Street Hospital have and always will consider any offers of new information that has come forward for the wellbeing of a desperately ill child," British Prime Minister Theresa May told the House of Commons on July 5.
"It's an unimaginable position to be in. I fully understand and appreciate that any parent in this circumstances would want to do everything possible and explore every option for their seriously ill child," May continued. "But I know no doctor wants to be in this terrible position where they have to make such heartbreaking decisions."
Religious and world leaders publicly opposed the court's decision.
JUDGE RULES BABY CAN BE TAKEN OFF LIFE SUPPORT AGAINST PARENTS' WISHES
President Donald Trump tweeted on July 3 that the U.S. would be "delighted" to help Charlie.
"Upon learning of baby Charlie Gard's situation, President Trump has offered to help the family in this heartbreaking situation," Helen Ferre, director of White House media relations, said in a statement.
She added that Trump did "not want to pressure" the family as he is "just trying to be helpful if at all possible."
Trump's support gave Yates "hope," she told Sky News.
The House Appropriations Committee voted last week to grant Charlie and his parents permanent residency status as they sought treatment.
Pope Francis has called for the parents to be allowed to do everything possible to treat their son, amending the Vatican's previous position after conservatives complained.
In a statement, the Vatican press office said Francis "is following with affection and sadness the case of little Charlie Gard and expresses his closeness to his parents. For this he prays that their wish to accompany and treat their child until the end is not neglected."
CHARLIE GARD'S PARENTS WITHDRAW APPLICATION TO BRING BABY TO US
Vatican-owned Pediatric Hospital Bambino Gesu — commonly called the "Pope's Hospital" — offered to take in Charlie and treat him.
New York Presbyterian Hospital and Columbia Medical Center agreed to admit the boy, if he can be sent "safely" there, with legal issues "cleared." The hospital said it would also have to get the FDA's "emergency approval" for the boy's experimental treatment.
"Alternatively, if approved by the FDA, we will arrange shipment of the experimental drug to Great Ormond Street Hospital and advise their medical staff on administering it if they are willing to do so," the hospital said.
How have celebrities reacted?
Singer Cher supported allowing Charlie Gard to come to the U.S. for treatment.
In an emoji-laden tweet on July 3, Cher said "institutions have no right [to] flip switch on beloved" baby.
"If [the U.S.] can save precious Charlie Gard … send him [to] us," she said.
British model Tamara Ecclestone has also donated to Charlie's parents' online fundraising site.
An Instagram account set up to document "Charlie's Fight" thanked actress Linda Robson for her support.
The Associated Press contributed to this report.