Chapo Guzmán's escape may be Mexican Pres. Peña Nieto's biggest embarrassment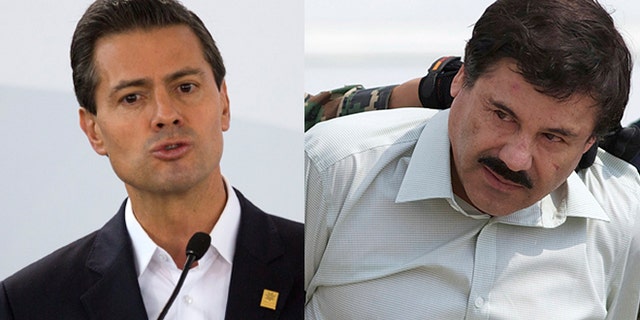 Heavily armed soldiers and policemen watch as journalists swarm a small, dilapidated house not far from Mexico's most secure prison.
One of the policemen whispers, "Take pictures of whatever you want – show the world that everything has a price in Mexico."
He sounds embarrassed to be standing guard over the hole through which, less than 24 hours earlier, Mexico's most notorious criminal escaped.
Mexican president Enrique Peña Nieto, who arrived in France for a state visit earlier Sunday, is facing what may well be the biggest embarrassment of his presidency so far, as Joaquín Guzmán Loera, one the country's most notorious and powerful drug lords, escaped a maximum security federal prison. Again.
Guzmán, nicknamed "El Chapo" (Shorty), escaped from the Altiplano penitentiary, just west of Mexico City, at about 9 p.m. on Saturday night. According to Monte Alejandro Rubido, the country's National Security Commissioner, the former head of the Sinaloa Cartel used a mile-long tunnel to flee, one end of which is in the prison's shower room.
Guzmán's escape is extremely awkward for Peña Nieto, who, when he took office, vouched to make Mexico a safer place. His security policies appeared successful at first, as violent deaths fell somewhat in his first two years in office, underscored by a string of high-profile takedowns of some of the country's most wanted criminals.
The arrest of Joaquín Guzmán, in February last year, was his crowning achievement. An intense manhunt, conducted with U.S. assistance, led to the arrest of a man who had been called "The Eternal Fugitive" after evading the law for 13 years after his escape from the Puente Grande prison in Jalisco state in 2001.
That time, with some help from prison guards, Guzmán managed to escape hidden inside a laundry cart.
After Guzmán was arrested last year, few people expected that the 58- or 60-year-old kingpin (there is disagreement about his birthdate) would make a run for it again.
This time he was incarcerated in the maximum security prison of Almoloya de Juárez, more often known as Altiplano, on the outskirts of the city of Toluca. The fortress-like facility holds many of Mexico's most notorious criminals, such as Jesús Zambada García, Teodoro García Simentel and Édgar "La Barbie" Váldez Villareal.
But not even Altiplano could keep Chapo locked up. And the way he escaped, through a sophisticated tunnel (it was his trademark method of smuggling drugs across the U.S. border) has stirred a mixture of disbelief, anger and scorn.
So brazen was his escape that many Mexicans believe he could not have pulled it off without help from both inside and outside the prison. Attorney general Arely Gómez told the press at the house where the exit of his tunnel was found that 30 employees of Altiplano prison are being questioned for possible involvement.
Many commentators suspect that, as was the case in 2001 at the Puente Grande prison, his escape may have been the result of corruption within the prison.
None of that is good for Peña Nieto, whose government has come under constant fire over ties between authorities and organized crime since 43 students disappeared and were most likely murdered in September last year in the southern city of Iguala, by gangsters working together with local police.
"Chapo's escape is an embarrassment for the authorities, not just Peña in particular," British journalist Malcolm Beith, who chronicled the hunt for Guzmán in the book "The Last Narco," told Fox News Latino. "Unfortunately, it's become the norm. For every step forward made on police reforms, on judicial reforms, something like this happens. And it's a big step backward."
"If you can't keep a guy like Chapo in jail, how can you possibly tell your country that the situation will improve?" he added.
Besides the obvious hit the government's popularity will take at home, the prison break will undoubtedly also place a strain on Peña Nieto's relationship with Washington. U.S. assistance was instrumental in capturing the drug lord last year and now seems to have been in vain.
Moreover, the 2014 release of Rafael Caro Quintero, a senior crime lord convicted for the murder of DEA undercover agent Enrique Camarena, caused a lot of unhappiness north of the border.
"It's a joke, and a big one", says José Reveles, a senior crime reporter. "Especially if you consider that his capture last year was gift from the U.S. to Peña Nieto. They did all the work."