Calgary stabbings: Student charged in attack that left 5 dead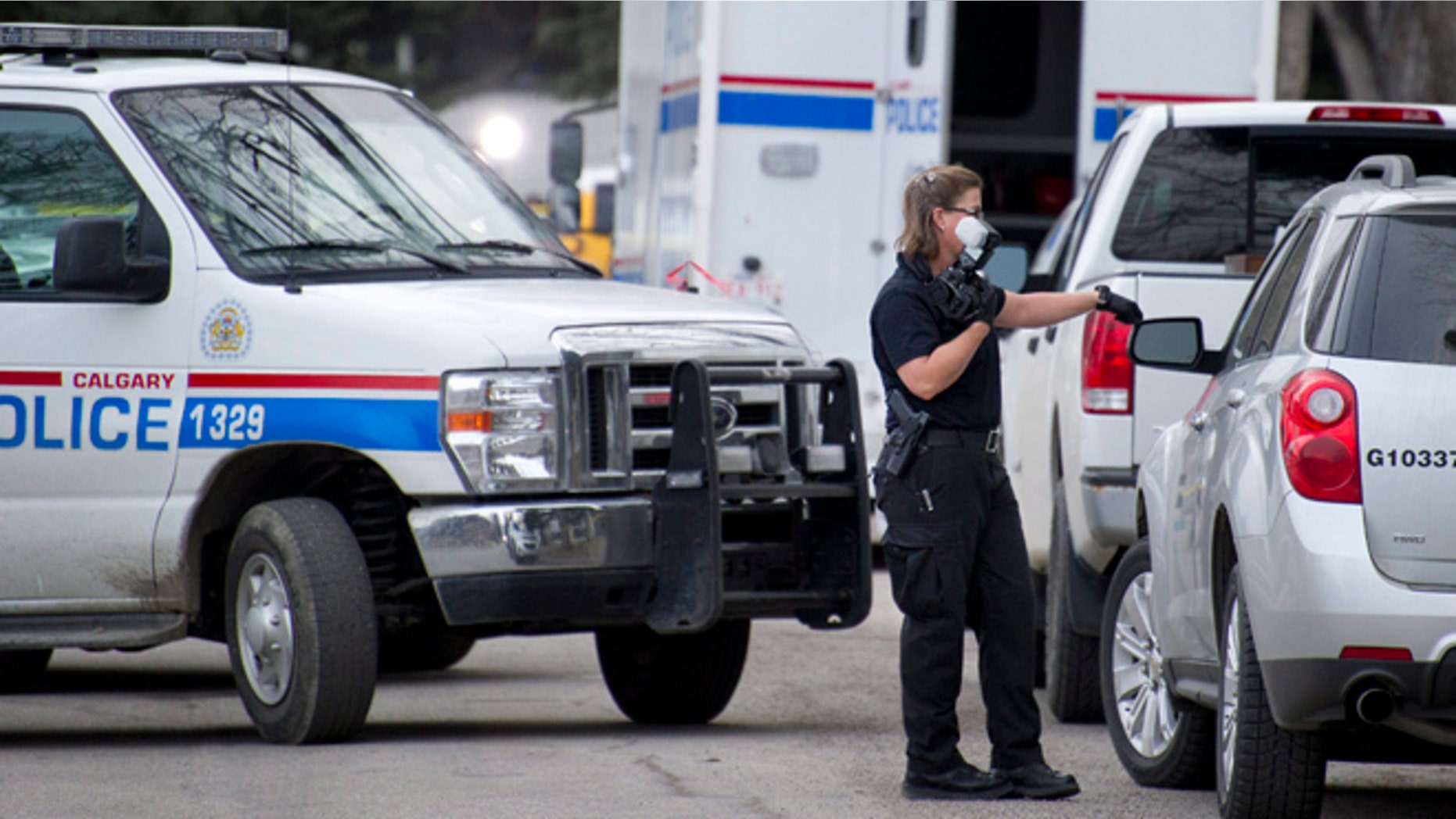 CALGARY, Alberta – A University of Calgary university student was charged in the fatal stabbing of five people at a house party Tuesday that the police chief called the worst mass murder in the Canadian city's history.
Matthew Douglas de Grood, the son of a 33-year veteran of the Calgary police force, picked up a large knife shortly after arriving at the party and stabbed the victims one by one, said police Chief Rick Hanson.
"We have never seen five people killed at one scene," Hanson said. "The scene was horrific."
Douglas de Grood, 22, was charged with five counts of murder late Tuesday.
The attack in the Western Canadian city came nearly a week after a teenage boy stabbed and wounded 21 students at his high school outside Pittsburgh.
Hanson said the motive for the Calgary attack was unknown. He said the suspect's father and mother are devastated.
"They are now feeling so much sorrow," he said. "Those young people are dead and they are absolutely devastated."
Hanson said the identities of the five victims —four men and a woman — will be released when autopsies are completed. He said their ages range from 22 to 27 and they were all "good kids."
Neither they nor the suspect had any prior involvement with police, Hanson said.
He said it appears the attack took everyone at the party by surprise.
"Was there anything that precipitated the event? Was there something that anyone had done that anyone could have taken as an insult or an affront to this individual? To the best of our knowledge right now, there's nothing to indicate anything like that happened," Hanson said.
About 20 people were at the party celebrating the last day of classes, he said. He said the suspect left his work at a grocery store before arriving to the party.
Three of the victims were found dead at the home, and two others died at a hospital.
Police said Douglas de Grood was arrested with the help of the police canine unit about 40 minutes after the stabbings and was taken to hospital for treatment for dog bites.
Hanson said there's nothing to indicate the suspect was drunk or had been doing drugs.
He said police are interviewing witnesses.
The blue-sided house where the stabbings occurred is on a quiet, tree-lined residential street. It was surrounded with yellow police tape as medical examiner staff brought three bodies out on stretchers.
Neighbor Doug Jones said about a dozen students had been drinking beer around a firepit in the backyard earlier in the night, but they weren't rowdy. He said they were talking about politics and the stock market. They took the party inside at about 9 p.m. and he heard nothing after that.
On Twitter, many students wrote about how they started drinking early in the morning Monday and continued after the campus event at parties elsewhere.
University of Calgary President Elizabeth Cannon said they are "deeply saddened" by the news. Cannon said it was a house party off campus.
"This is a terrible, terrible tragedy," Cannon said. "It's young people who have lost their lives at a very critical point in their lifetimes. It's a huge impact on all of us."
Calgary Mayor Naheed Nenshi offered condolences in a tweet.
"Thoughts and prayers of all Calgarians are with the young people we lost this morning, their families, friends, and university community," the mayor said.