Bus crash south of Baghdad kills 24 people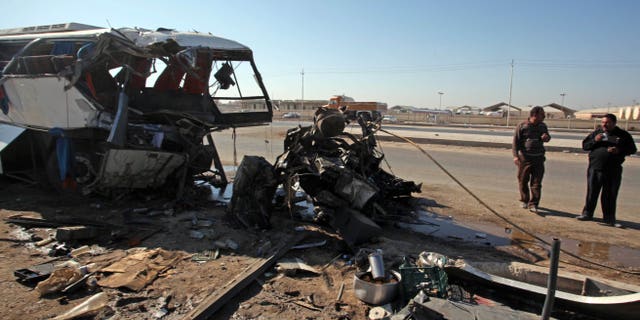 BAGHDAD – Two buses collided on a highway south of Baghdad on Friday, killing 24 people, including 22 Iranian pilgrims visiting Shiite holy sites in Iraq, officials and eyewitnesses said.
The Babil province police spokesman, Maj. Muthana Khalid, said the buses overturned in the southern city of Hillah, about 60 miles (95 kilometers) south of the capital. Passers-by pulled people from the windows in a rush, fearing the buses would explode.
Two Iraqis were also killed, and more than 50 Iraqis and Iranians were injured. Dr. Saad al-Nakaash of Hillah hospital confirmed the casualty toll.
"Our bus was hit by another bus and the passengers in my bus flew over the other," said Jassim Swadi, 45, a Hillah resident who was on one of the buses. "The sky could be seen from the windows, and we realized that the bus must have turned over."
Swadi, lying in a bed at Hillah hospital for injuries to his head and right hand, described other passengers climbing out of windows as he lay in shock.
Eyewitnesses said the two buses were going in opposite directions when one of them tried to pass another vehicle. The buses collided head on and flipped over on the side of the road. One of the drivers was also killed.
Shiite pilgrims come from all over the world to visit shrines and mosques in Iraq that are revered by Shiites, but the vast majority of the religious tourists are Iranians.
The pilgrims have often been targeted by Sunni extremists who view Shiites as nonbelievers, but Friday's crash did not appear to be related to violence.
The pilgrims' bus was headed to Samarra, about 60 miles (95 kilometers) north of Baghdad, after leaving the Shiite shrine in Najaf, said Iranian passenger Layla Ahmed Zada, 50.
Shrines in Najaf and Samarra are two of the holiest sites in Iraq for Shiite Muslims. Sunni insurgents attacked the golden shrine in Samarra in February 2006 in one of the major flashpoints of Iraq's sectarian battles.
Another Iranian passenger, Mahdi Agha, 57, said two of his brothers died in the crash and his wife was badly injured. "We expected explosions, but we did not expect such a terrible accident," he said.
Both Iran and Iraq are Shiite majority countries. But before the 2003 U.S.-led invasion, troubled ties between the Iranian government and Saddam Hussein's Sunni minority-led government in Iraq made it difficult for Iranians to visit Iraq's Shiite holy sites.
The neighboring countries fought a brutal eight-year war in the 1980s that left hundreds of thousands of people dead on both sides.
After the 2003 U.S.-led invasion toppled Saddam, Iranians flooded into the country to see such locations as the Imam Hussein and Imam Abbas mosques in Karbala and the Imam Ali shrine in Najaf, and their tourist dollars became an important source of income for Iraq.
Also Friday, a sniper shot and killed a policeman manning a checkpoint in the capital's western neighborhood of Iskan, and gunmen with silencers opened fire from a speeding car on a police colonel and wounded him, officials from police and hospitals said. The officials spoke on condition of anonymity because they were not authorized to speak to the media.
While overall violence has dropped considerably in Iraq, government officials remain a prime target for insurgents.