Brunei's crackdown on homosexuality: Why Kingdom is implementing draconian Sharia law
NEWYou can now listen to Fox News articles!
In an age when global awareness in decriminalizing homosexuality is gaining momentum, the excessively wealthy, Muslim-majority nation of Brunei is enraging much of the international community by moving in the opposite direction.
On Wednesday, it will officially apply the final stages of its harsh interpretation of the Islamic Penal Code known as Sharia Law.
According to the Government of Brunei's website, those who are convicted of stealing could be sentenced with having their right hands chopped off. If they offend a second time, they may lose a left foot. The Southeast Asian nation will also have legal leeway to issue capital punishment to those who perform black magic, along with stoning for adultery and sodomy.
BRUNEI DEFENDS PLANNED EMBRACE OF EXTREME ISLAMIC LAWS
Awash with oil money, the 400,000-person kingdom has been reigned over by its sultan, 72-year-old Hassanal Bolkiah for more than 50 years, who has amassed a net worth of over $20 billion. So why the scathing law now?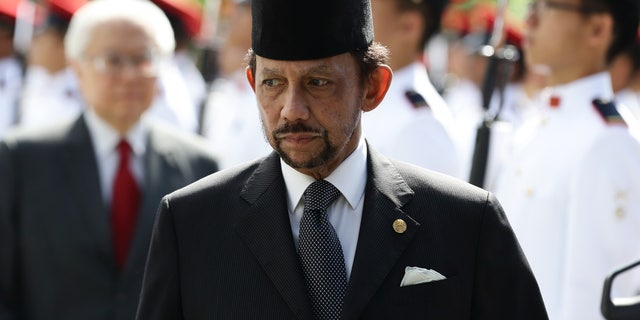 According to a source closely connected to the Sultan, those closest to him consider him a "passive" person. Many say that it would be a difficult task to find a doctor in Brunei who would concede to cutting off a hand, and many seem unconvinced it will be brazenly implemented.
"The Sultan is afraid of extreme Muslims, so he wants to keep things in line," the insider told Fox News. "It doesn't make it right, but there are reasons."
BEVERLY HILLS HOTEL BRACES FOR FRESH CELEBRITY BOYCOT AFTER GEORGE CLOONEY CRITICIZES SULTAN OF BRUNEI OWNER FOR SHARIA LAW
The source furthermore elaborated that a close family member – revered nationwide as a devout Muslim – was rumored to be up to "naughty" endeavors when traveling to open, western societies and the reaction of the aging Sultan was to nip the behavior in the bud.
"Apart from criminalizing and deterring acts that are against the teachings of Islam, it also aims to educate, respect and protect the legitimate rights of all individuals, society or nationality of any faiths and race," Brunei's Prime Minister said in a statement.
Yet U.S. experts on the issue remain deeply skeptical that it's mere political posturing.
BILL MAHER SLAMS GEORGE CLOONEY OVER CALL FOR BEVERLY HILLS HOTEL BOYCOTT: 'IT'S CHICKENSH-- TOKENISM'
"For years, punishing homosexuality and adultery with death has not been uncommon in Sharia-law based societies. Brunei is just the latest nation to jump on this extremist, barbaric bandwagon," Benjamin Ryberg of the Lawfare Project said. "Regardless of the motivation, Brunei's laws fly in the face of international human rights norms."
Benjamin Weinthal, a research fellow for the Foundation for the Defense of Democracies, concurred.
"The radical Islamic ideology behind the law can rapidly turn into mass executions," he said, pointing out that Iran's religious regime has executed upwards of 6000 gay and lesbian people since the country's 1979 Islamic revolution.
LGBTQ GROUPS CONDEMN TRUMP ADMINISTRATION'S CAMPAIGN TO END CRIMINALIZATION OF HOMOSEXUALITY WORLDWIDE AS STUNT
The United Nations high commissioner for human rights, Michelle Bachelet, has called on Brunei to put a stop to the code's enforcement and the U.S. State Department has expressed "concern," stating that "some of the punishments in the law appear inconsistent with international human rights obligations."
Despite the pushback, Brunei's government is doubling down.
"(The Sultan) does not expect other people to accept and agree with it, but that it would suffice if they just respect the nation in the same way that it also respects them," the official website reads.
Initial word that the Sultan has brought back Sharia attracted the ire of the Hollywood elite almost five years ago, and for months many boycotted the famed Beverly Hills Hotel and Bel Air Hotel, which are part of the Dorchester Collection that is owned by the Sultan.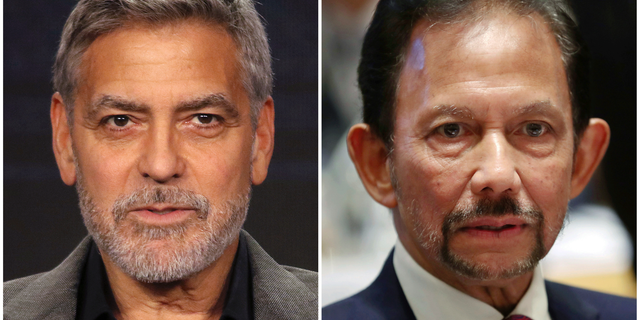 The protest movement eventually fizzled out with a whimper, only to be revived last week after actor and activist George Clooney penned an op-ed in industry trade Deadline, reminding the entertainment community that the barbaric laws would come into play this coming Wednesday and urged others not to "put money directly into the pockets of men who choose to stone and whip to death their own citizens for being gay or accused of adultery" but staying or dining at Dorchester properties.
According to a source connected to the Beverly Hills Hotel, the restored negative spotlight has many of the staff, who rely on tips, extremely concerned and that there was even a bomb scare over the weekend.
The hotel did not respond to a request for comment, but last week issued a statement vowing that the "Dorchester Collection emphasizes equality, respect and integrity in all areas" and "strongly values people and cultural diversity amongst guests and employees."