Brothers arrested in stoning death of pregnant sister in Pakistan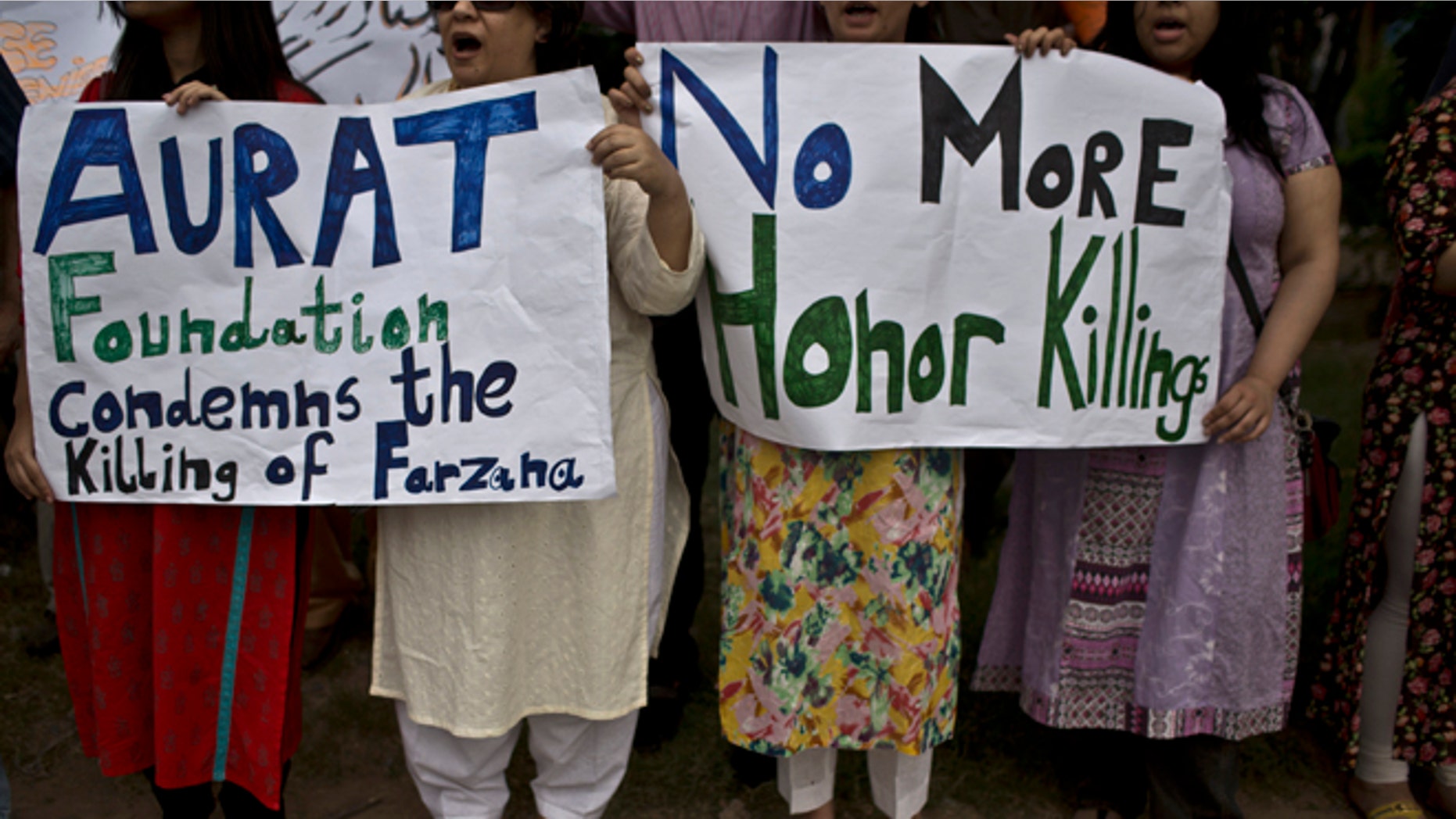 Police in Pakistan have arrested two brothers who participated in a stoning attack that left their pregnant sister dead.
The mob assault, carried out with bricks, was the woman's punishment for marrying a man against the family's wishes.
Police spokesman Nayab Haider Rizvi says the two men were arrested Wednesday from a home in the eastern Punjab province.
Rizvi says authorities also arrested a third man who has claimed the woman, 25-year-old Farzana Parveen, was married to him at the time she married another man, Mohammad Iqbal, 45.
International pressure has mounted on Pakistan since May 27, when Parveen was killed on the way to court in the eastern city of Lahore.
Authorities arrested the woman's father after the attack and four other people were arrested last Friday.
Parveen was stoned to death on her way to court to contest an abduction case her family had filed against her husband. Her father, Mohammad Azeem, was promptly arrested on murder charges, police investigator Rana Mujahid said after the attack, adding that police were working to apprehend all those who participated in this "heinous crime."
Arranged marriages are the norm among conservative Pakistanis, and hundreds of women are murdered every year in so-called honor killings carried out by husbands or relatives as a punishment for alleged adultery or other illicit sexual behavior.
Stonings in public settings, however, are extremely rare. Tuesday's attack took place in front of a crowd of onlookers in broad daylight. The courthouse is located on a main downtown thoroughfare.
Azeem had filed an abduction case against Iqbal, and the couple was contesting, said Parveen's lawyer, Mustafa Kharal.
Nearly 20 members of Parveen's extended family, including her father and brothers, had waited outside the building that houses the high court of Lahore. As the couple walked up to the main gate, the relatives fired shots in the air and tried to snatch her from Iqbal, her lawyer said.
When she resisted, her father, brothers and other relatives started beating her, eventually pelting her with bricks from a nearby construction site, according to Mujahid and Iqbal, the slain woman's husband.
Iqbal said he started seeing Parveen after the death of his first wife, with whom he had five children.
"We were in love," he told The Associated Press. He alleged that the woman's family wanted to fleece money from him before marrying her off.
"I simply took her to court and registered a marriage," infuriating the family, he said.
"I killed my daughter as she had insulted all of our family by marrying a man without our consent, and I have no regret over it," Mujahid quoted the father as saying.
Mujahid said the woman's body was handed over to her husband for burial.
The Human Rights Commission of Pakistan, a private group, said in a report last month that some 869 women were murdered in honor killings in 2013.
But even Pakistanis who have tracked violence against women expressed shock at the brutal and public nature of Tuesday's slaying.
"I have not heard of any such case in which a woman was stoned to death, and the most shameful and worrying thing is that this woman was killed outside a courthouse," said Zia Awan, a prominent lawyer and human rights activist.
He said Pakistanis who commit violence against women are often acquitted or handed light sentences because of poor police work and faulty prosecutions.
"Either the family does not pursue such cases or police don't properly investigate. As a result, the courts either award light sentences to the attackers, or they are acquitted," he said.
The Associated Press contributed to this report.