British police arrest man who allegedly pushed woman in front of bus
British police on Thursday arrested a man who allegedly pushed a woman in front of a double-decker bus while he was out jogging, police said.
The incident, which occurred earlier this year in the Chelsea area of the city, was captured on video.
London's Metropolitan Police said a 41-year-old man was arrested on suspicion of causing grievous bodily harm.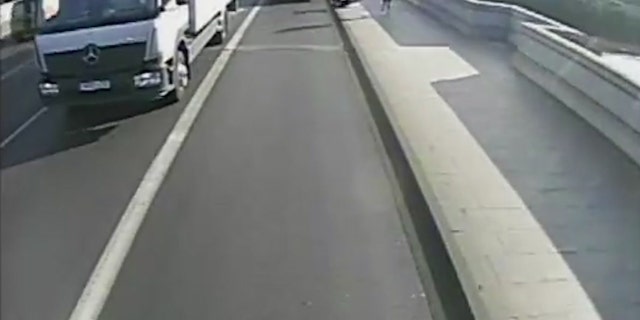 The man, who has not yet been identified, was taken to a south London police station, where he remains in custody, police said.
The 33-year-old victim was walking across the Putney Bridge on May 5 when the runner knocked her onto the road and into the path of an oncoming double-decker bus. The bus narrowly missed her.
BRITISH POLICE HUNT FOR JOGGER WHO ALLEGEDLY PUSHED WOMAN IN FRONT OF BUS
After the bus stopped, passengers rushed off to help the woman, who only sustained minor injuries from the incident.
According to Met Police, the jogger returned to the bridge 15 minutes later. The victim tried to speak to him, "but he did not acknowledge her and carried on jogging," police said.
Officials released surveillance footage of the incident Tuesday, and received "a good response" after asking the public for information, police said.