British model Chloe Ayling: 'If it wasn't me, I would think it was just crazy'
Model Chloe Ayling isn't bothered that people suspect she masterminded her own kidnapping.
"It doesn't offend me, no," she tells Australia's "60 Minutes" news program, according to News.com.au.
The 20-year-old woman explains that she isn't offended because she gets it.
"There are people just picking parts of the story," she says, according to the website. "So I see why people have doubts, because if it wasn't me, I would think it was just crazy."
Ayling has said she was kidnapped in July in Milan, Italy, by two men who have since been arrested. She said she was held captive at a farmhouse in Turin for six days until she was freed. She said her captors demanded $355,000 in ransom. No money was ever paid.
BRITISH MODEL CHLOE AYLING SUFFERED PHYSICAL VIOLENCE, 'BRUTALLY TRANSPORTED IN LUGGAGE,' POLICE TESTIFY
Doubts were raised after the lawyer for Lukasz Herba, 30, one of the alleged captors, argued that the kidnapping may have been staged to boost Ayling's modeling career. Herba went on trial in an Italian court last week. Cops say his accomplice was his 25-year-old brother Michal who has been arrested and faces extradition to Italy from Britain.
Ayling tells "60 Minutes" that she is "100 percent" certain Herba and his brother are guilty, News.com.au reported.
The website reported that during the interview, Ayling is quizzed on omissions and inconsistencies in her story, including why she did not tell Italian police she'd been shoe shopping with one of her alleged abductors during the ordeal.
"I've heard of Stockholm syndrome, but not shoe shopping syndrome," her interviewer tells her.
In the interview, she describes her kidnapping in detail, the website reported.
"I was about to put my hand on the door that said 'Studio', just to open it, check if anyone was there and that's when I was attacked from behind," she says.
MODEL CHLOE AYLING POSTS NUDE PHOTO JUST MONTHS AFTER 'BLACK DEATH' KIDNAPPING
"One person put his arm around my neck and the other hand with a glove on my mouth and my nose. And another masked man rushed in front of me and held a syringe to my arm.
"Obviously, I was trying to fight back because I didn't want that to go into my arm," she says, according to News.com.au.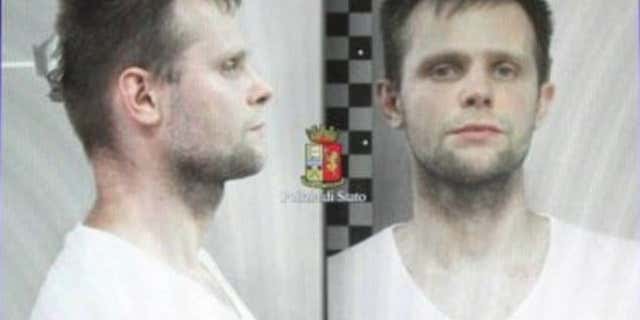 "I was trying to make a fist, but I can't fight off two grown men, so they managed to get the syringe into my wrist and then I was unconscious."
She says when she awakened she discovered "restraints on my mouth" and handcuffs around her hands and ankles.
"I was trying to feel where I am, I heard the engine so I knew I was in a moving car," she says. "I started shouting 'driver!' like as loud as I could.
"They didn't say anything. Not a word."
She says she was injected with the party drug Ketamine.
She denies ever taking it before.
"No, I don't do drugs," she says. "I don't even drink, really."