Brazilian ex-minister claims gov't wants to derail corruption investigation against Petrobras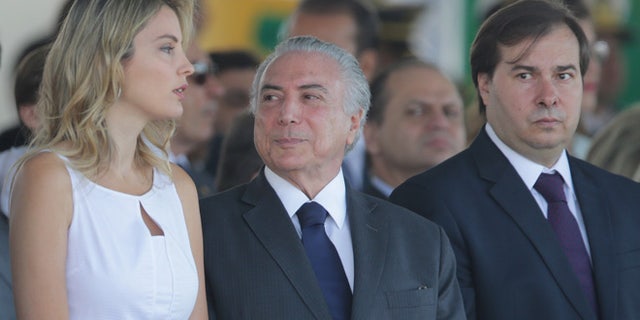 NEWYou can now listen to Fox News articles!
SAO PAULO (AP) – Brazil's former solicitor general said he believes President Michel Temer fired him in an effort to derail the investigation into a corruption-kickback scheme at state oil company Petrobras, according to an interview published Saturday.
"I have no doubt that I was fired because the government wants to suppress the investigation," Fabio Medina Osorio told Veja newsmagazine. "It fears how far the investigation will go."
Osorio was let go Friday and replaced by Grace Mendonca, the first woman appointed to Temer's otherwise all white male Cabinet.
Temer's press office said it had no immediate comment on his allegation.
Prosecutors allege roughly $2 billion in bribes were paid by companies in return for inflated building contracts. The investigation has ensnared dozens of people, from lawmakers to businesspeople.
Osorio said he had been planning to file administrative misconduct charges against politicians and added that such charges could result in lawmakers being barred from holding elective office.
Three of Temer's ministers resigned amid corruption allegations and leaked wiretapped conversations shortly after he became interim president in May.
Temer took over the presidency permanently when President Dilma Rousseff was ousted by the Senate on Aug. 31.
At her impeachment trial, Rousseff told senators she was being punished for refusing to quash the wide-ranging investigation into Petrobras and alleged that corrupt lawmakers conspired to oust her.
Watchdog groups estimate that 60 percent of the 594 lawmakers in the Senate and the lower chamber are being investigated for wrongdoing, many for corruption related to the Petrobras probe.
David Fleischer, a professor emeritus of political science at the University of Brasilia, said he sees Osorio's interview as a way to "go out shooting" and predicted it would not hurt Temer's government.
"People will see it as case of sour grapes," Fleischer said.
Like us on Facebook
Follow us on Twitter & Instagram