Brazil president faces impeachment over creative accounting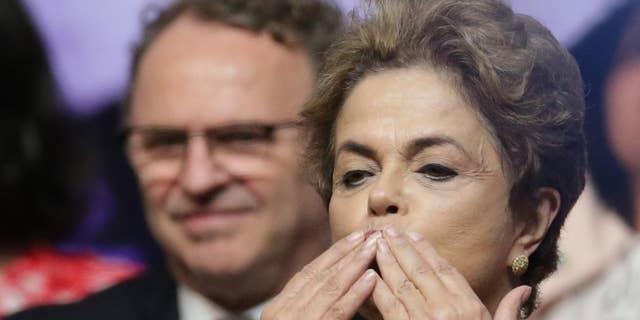 NEWYou can now listen to Fox News articles!
RIO DE JANEIRO – THE IMPEACHMENT CASE: The proceedings against President Dilma Rousseff are based on accusations that she broke fiscal laws in 2015 to hide budget problems. The main allegation is that her administration delayed moving treasury funds to state-owned banks to pay for government programs. That made public finances look better than they were. Rousseff insists the practice is not an impeachable offense, pointing to other Brazilian presidents who used such creative accounting techniques and were not punished in any way.
___
INCIDENCES OF CREATIVE ACCOUNTING: The fact-checking website Aos Fatos counted such incidents involving state-run bank Caixa Economica Federal. It says Rousseff used creative accounting during her first five years in office 35 times more than the combined total of the two previous presidents, Fernando Henrique Cardoso and Luiz Inacio Lula da Silva. Allegations against Rousseff also include funds for all federal programs and the state-run banks BNDES and Banco do Brasil. The case against her cites only irregular accounting maneuvers done in 2015, which was the first year of her second term, because Brazil's constitution says a president can be impeached only for wrongful acts in the current term.
___
DILMA ROUSSEFF: In 2011-2015, Rousseff's administration used creative accounting in delaying payments to Caixa totaling almost $10 billion. These funds were paid back, but Brazil's fiscal laws say state banks should not make loans to the federal government. Rousseff denies those were loans. The funds involved unemployment benefits, bonuses to public workers and Bolsa Familia benefits, which is the government's flagship social program to provide minimum incomes for the poorest Brazilians. The delays stopped after a government watchdog ruled in October 2015 that the creative accounting mechanisms used by Rousseff were irregular.
___
VICE PRESIDENT MICHEL TEMER: Questions have been raised on how the case against Rousseff might affect Temer, who is next in line to take over her duties. As acting president when Rousseff was on trips outside Brazil, he authorized creative accounting measures. Temer argues he was not responsible for the economic policies and says his signature doesn't mean any involvement in the decision to delay payments.
___
LUIZ INACIO LULA DA SILVA: Silva, who was Rousseff's mentor and predecessor, used similar accounting practices in September and November 2003 and in November 2006, shortly after his re-election. The amounts involved totaled $144 million. The funds were for unemployment benefits and Bolsa Familia benefits.
___
FERNANDO HENRIQUE CARDOSO: Now an opposition leader, Cardoso issued similar decrees while president to delay payments to Caixa four times involving unemployment benefits. The first was in September 1996 and three more came in 2002, totaling $125 million at current values. The Bolsa Familia program did not exist at the time.