Brazil and Uruguay Move Against Crimes During Dirty War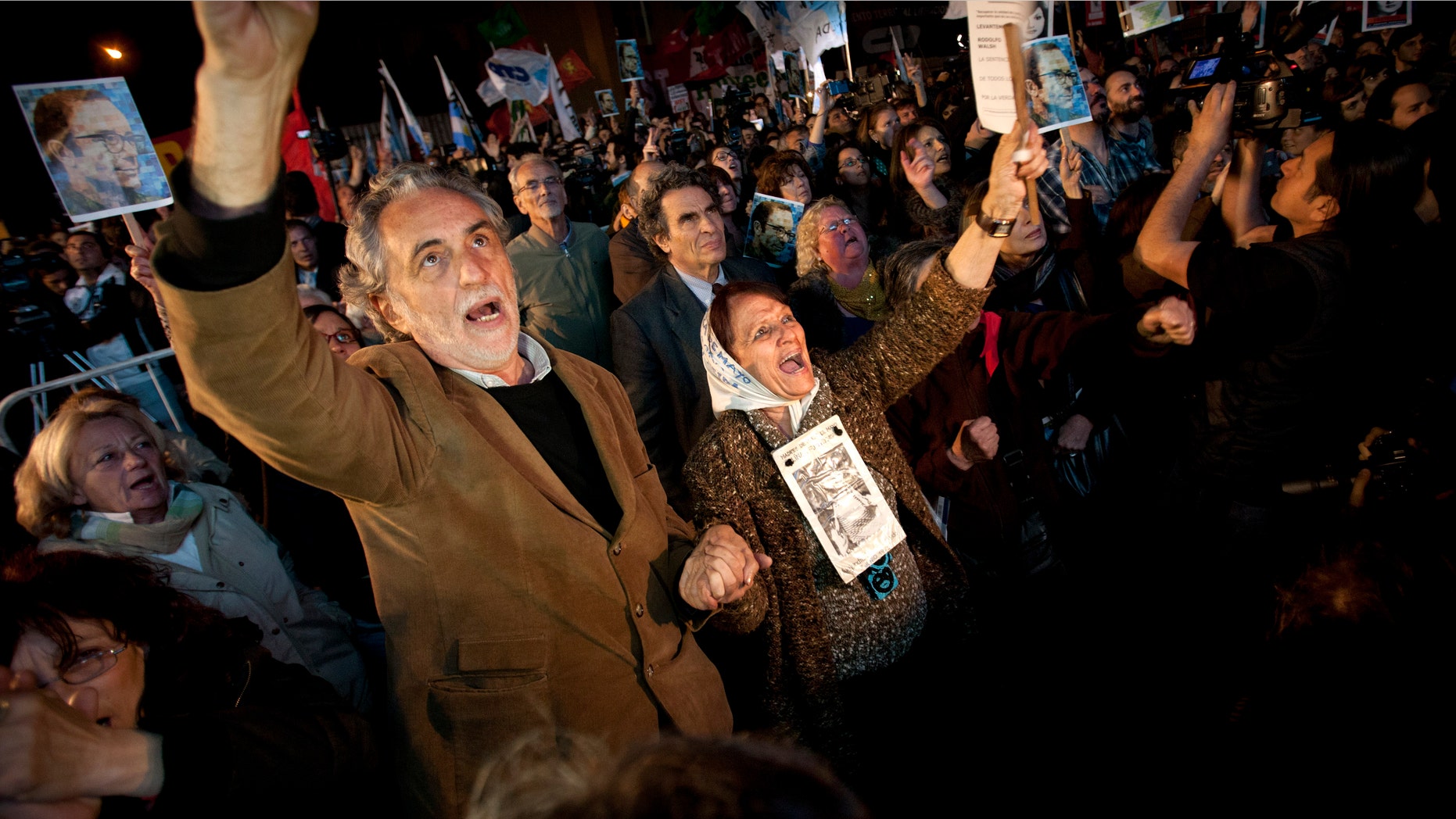 Following in the footsteps of their Latin American neighbors, Brazil and Uruguay made preliminary strides this week to investigate crimes committed by their governments during the "dirty wars" of decades past.
A "truth and reconciliation" commission to investigate four decades of human rights abuses passed Brazil's Congress unanimously this week. On Thursday, Uruguay's Congress revoked a military amnesty and classified dictatorship-era kidnappings, torture and killings as crimes against humanity.
"It indicates an enormous leap forward, away from the fear," Argentine-Chilean playwright Ariel Dorfman said by telephone from London, where a revival is being staged of "Death and the Maiden," his play about the failures of Latin American justice. "The past has been haunting Argentina, and Chile and Brazil and Uruguay for many years now, and unless you bury it well, it turns into a ghost, and you can't kill a ghost."
Brazil's vote late Wednesday night represented a compromise between military leaders and human rights advocates after years of argument.
Uruguay's lawmakers did the opposite hours later, breaking a deal made a quarter-century ago to protect both the right and the left as democracy was restored.
Rights advocates in both countries hope their governments will now reveal more about what really happened, just as in Argentina and Chile, where hundreds of dictatorship-era officials have been convicted of "dirty war" crimes.
The latest such convictions came Wednesday in Argentina, where a one-time navy secret agent known as the "Angel of Death" and 11 other former officials were sentenced to life in prison for kidnapping, torture and murders of detainees at the notorious Navy Mechanics School, where 5,000 people were held and only half survived.
The past has been haunting Argentina, and Chile and Brazil and Uruguay for many years now, and unless you bury it well, it turns into a ghost, and you can't kill a ghost.
Military dictatorships allied with the United States ruled much of South America in the 1970s. They combined forces in Operation Condor, a coordinated effort to crush the threat of armed revolution.
As each nation returned to democracy in the 1980s, still-powerful militaries forced them to make uncomfortable compromises — amnesties or rulings by pro-junta judges that delayed or denied prosecutions, or "truth" commissions whose ground rules left many unsatisfied.
Dorfman, whose long exile from Chile and Argentina began with the 1973 coup of Chilean Gen. Augusto Pinochet, has written many works about the difficulties of seeking justice long after authoritarian governments give way to democracies. Each country's journey is incomplete, but he said Thursday was a day to celebrate.
"There's only one road to hell but there are many roads to heaven," Dorfman said. "All of these Operation Condor countries that collaborated and were such allies in this fight against the democratic forces of their societies, they are all coming to separate ways of dealing with that past. It's very heartening."
Brazil's government recently tallied 475 people killed or disappeared by combatants on the right and left during its 1964-1985 dictatorship, but it has never fully investigated or punished those responsible.
The compromise reconciliation panel gives both sides plenty to worry about.
The commission will have subpoena power, can demand any document it wants from the government and put witnesses under oath. But the country's 1979 amnesty remains intact, so it won't result in prosecutions. It's not clear what will happen to people who refuse to talk. And in a concession to Brazil's military, it must look at any rights crimes from 1946 to 1988, the beginning of Brazil's current democracy.
"This commission is extremely limited — it's almost perverse. There is no infrastructure, not enough people, and not enough time to research and investigate everything that happened," said Cecilia Coimbra, who was tortured by Brazil's military. "History will be told in a limited way."
Coimbra founded the anti-torture group Tortura Nunca Mais and lobbied against a truth commission without the power to impose punishment.
But Brazil's human rights minister, Maria do Rosario Nunes, said the commission represents a "commitment by the Brazilian state to never again use coercion and violence as a tool of politics in our country."
It will begin its work as soon as President Dilma Roussef names its seven members.
Argentina's experience shows such commissions alone aren't enough, said Estela de Carlotto, leader of the activist group Grandmothers of the Plaza de Mayo.
"Here, reconciliation? Forget it," Carlotto said in an interview last year. "Here there has to be truth and justice. Why? Because first of all, they didn't ask for forgiveness. Here, they said they did the right thing and would do it again."
Argentina's "Never Again" commission, led by writer Ernesto Sabato, began an official tally that eventually numbered 13,000 victims of the dictatorship — evidence of deaths and disappearances powerful enough to enable the fragile democracy to try and convict former junta leaders in civilian courts.
Lower-ranking officers then rebelled, forcing amnesties that held for two decades. Only after Argentina's Congress and Supreme Court overturned them could evidence gathered a generation earlier be prepared for the many trials currently under way.
To date, 262 people have been convicted of crimes against humanity, Argentine prosecutors said Thursday. The latest was former navy spy Alfredo Astiz, who infiltrated and betrayed a group of mothers seeking their missing children. He also was convicted of kidnapping, torturing and murdering two French nuns and a journalist.
"Now we have trials all over the country because the laws of impunity fell and we're operating with complete justice," Carlotto said. "At times it's bad justice, or weak or deceitful, or good. But it's justice, and you can appeal it and bring forward your testimony and evidence."
A blanket amnesty declared by Chile's dictatorship in 1978 remains in force, preventing most prosecutions involving the bloodiest period of the 1973-1990 military rule. Prosecutors have tried hundreds of former military and police officials, nevertheless. They argue that a crime is still being committed as long as a victim hasn't been found and that amnesties can be applied only at the conclusion of the judicial process, not beforehand.
Uruguay's twin amnesties protecting former military members and leftist guerrillas were twice upheld in national referendums. But the governing Broad Front coalition finally found enough votes in Congress to overturn the military amnesty, and President José Mujica is expected to sign the law before Nov. 1, when a statute of limitations would have eliminated the possibility of new prosecutions.
Long-dormant cases will be opened against former military and police officials suspected in the kidnappings and killings of about 30 leftists during Uruguay's 1973-1985 dictatorship.
The backlash has already begun. Some retired military leaders said they will ask for prosecutions of about 30 former Tupamaro guerrillas as well. While Mujica and most other ex-rebels served long prison sentences before democracy's return, others remained free.
Based on reporting by The Associated Press.
Follow us on twitter.com/foxnewslatino
Like us at facebook.com/foxnewslatino