Border Patrol Abuse Goes Largely Unpunished, New Report Claims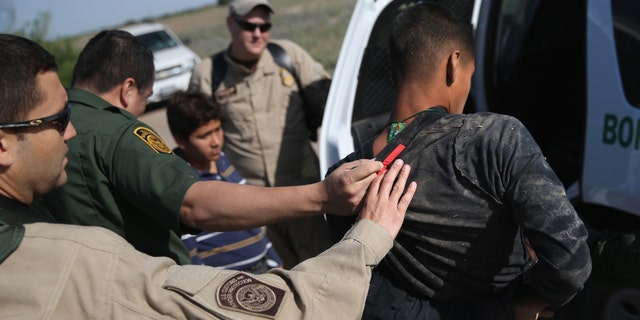 United States Border Patrol agents rarely face punishment for abusive actions they take against undocumented immigrants and U.S. citizens, a new report from one watchdog group claims.
The report by the American Immigration Council found that 97 percent of abuse complaints against Border Patrol agents and Customs and Border Protection (CBP) officers resulted in no disciplinary action and, those that did end in a punishment, typically only ended with counseling.
Some of the complaints include a Mexican teenager who accused Border Patrol agents of punching him in the face during an arrest and a pregnant woman who said agents kicked her while she was detained.
"These stark findings exemplify the culture of impunity that prevails at C.B.P.," Melissa Crow, director of the council's Legal Action Center, told The New York Times. "Given the tremendous resources appropriated to C.B.P., the agency must do a better job of holding its officers accountable."
Of 809 abuse complaints filed near the U.S. Southwest border between January 2009 and January 2001, only 13 of those led to any disciplinary measures, the group says.
Border Patrol officials said that these numbers don't represent any systematic flaw within the agency, which handled more than 1 million border apprehensions over the period the records cover. The federal agency also said it takes every complaint it receives seriously.
"C.B.P. is committed to ensuring that our agency is able to execute its challenging missions while preserving the human rights and dignity of those with whom we come in contact," said Kevin McAleenan, acting deputy commissioner for the agency. "The men and women of CBP strive to treat each of the over 1 million people we come into contact with each day with the respect they deserve. All allegations of misconduct are taken seriously, and if warranted, refer for appropriate investigative and/or disciplinary action to be taken."
The 44-page list of complaints show that in about 40 percent of all grievances made to Internal Affairs, no decision had been made or reported until three years after they were filed. And in the remainder of the cases, 97 percent of those ended with a "no action" ruling against the offending agent.
"This absolutely confirms the experiences of our border families and communities," Vicki Gaubeca, director of the American Civil Liberties Union's Regional Center for Border Rights in New Mexico, told McClatchy newspapers. "U.S. Customs and Border Protection is now the largest law enforcement agency in the nation, and yet this massive buildup of border enforcement resources has not been matched with adequate accountability and oversight."
Follow us on twitter.com/foxnewslatino
Like us at facebook.com/foxnewslatino