Bombing at mall in Colombia kills 3, including French woman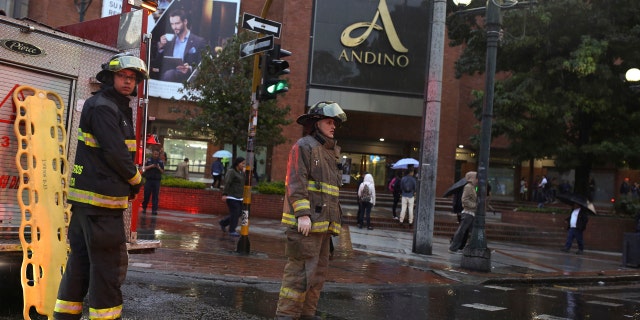 NEWYou can now listen to Fox News articles!
Three people were killed in one of Colombia's biggest shopping malls Saturday after a homemade bomb placed in the women's bathroom exploded.
Police say the explosive that killed 3 and wounded 9 others was possibly made of ammonium nitrate.
Witnesses say they were evacuated from the Centro Andino Mall, a shopping center located in Colombia's capital, after the blast.
Emergency units rushed to the scene and the injured were taken to a nearby hospital where two victims later died.
Mayor Enrique Penalosa called the attack a "cowardly terrorist bombing," which turned the focus on the National Liberation Army which is the last rebel movement still active in Colombia. ELN, as it is also known by, has had a history of attacks in the capital of Bogota but the rebel group's leaders denied any involvement in Saturday's bombings.
"We ask for seriousness from people making unfounded and reckless accusations," ELN negotiators at peace talks taking place in neighboring Ecuador said on Twitter. "This is the way people are trying to tear up the peace process."
Colombian President Juan Manuel Santos made a visit to the bomb site late Saturday evening where he condemned the attack but declined to speculate who was behind it.
"The best answer to cowardly terrorism is to not let it unnerve us," he said.
The president also said that he would meet with top security advisers Sunday before heading out on a scheduled trip to Europe.
One of the victims included a 25-year-old French citizen. The woman, identified as Julie Huynh, was living in Bogota for the past six months volunteering at a school in a poor neighborhood. Huynh was expected to return to France in the coming days.
"The French know perfectly how to respond to these terrorist attacks," President Santos said, "and we Colombians too have the will not to let ourselves be intimidated."
The president is expected to visit France on his European tour.
The Associated Press contributed to this report.