Body of New York mom murdered in Turkey being returned home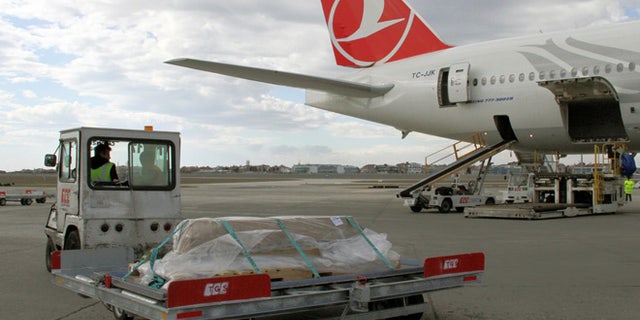 The body of a New York City woman killed while on vacation in Turkey is reportedly being returned home.
The Anadolu Agency, Turkey's state-run news outlet, said a casket carrying the remains of Sarai Sierra, 33, was being loaded onto a New York-bound plane on Thursday. Turkish Airlines is transporting the body for free, the agency said.
Sierra, a mother of two from Staten Island, was found dead 12 days after she disappeared in Istanbul. Police said she was killed by a blow to the head and are still trying to find her attacker or attackers. Sierra was on her first trip abroad pursuing a newfound hobby of photography, relatives said.
On Wednesday, a man being questioned by Turkish authorities reportedly told investigators he had a sexual relationship with Sierra. The Turkish man, identified only as "Taylan," gave DNA and sperm samples to police, the Turkish daily Vatan reported. The man told investigators he had a consensual sexual relationship with Sierra before she was last seen on Jan. 21.
But Sierra's best friend, Magdalena Rodriguez, told FoxNews.com she doubted the man's claim.
"We know Sarai," said Rodriguez, who originally planned to accompany Sierra on her vacation to Istanbul. "We know she didn't run off with anybody. She would have told me. She would have said something."
Rodriguez said she was in constant contact with Sierra throughout her trip.
"I don't believe what he [Taylan] says for one second," she said. "Sarai wouldn't willingly and knowingly involve herself with people who did not have her best interest at heart."
Turkish authorities have said Sierra died from a single blow to the head. A local funeral company on Tuesday told the Hürriyet Daily News, an English-language newspaper in Turkey, that she had multiple injuries to her head and face. Her body was found Saturday near remnants of the city's ancient walls. Turkish police said there appeared to be no sign of a sexual assault, though the New York Daily News reported the woman was found in only a shirt and underwear. Sierra's gold jewelry was still on her, but her tablet computer and U.S. cellphone are missing.
A source familiar with the investigation told FoxNews.com that Sierra had contacted "amateur tour guides" online in advance of her trip. Taylan was among the individuals whom she had communicated with, and the two were known to have met on Jan. 13, according to multiple Turkish media accounts. The pair had planned to meet by the Galata Tower on Jan. 21 — the day she was last seen — but Taylan reportedly told investigators that Sierra never showed up.
Rodriguez claims she and the family were aware of Sierra's online communications. "We knew about the tour guides ... We knew she planned to meet them," she said, adding, "She's not one to just meet a random person and then wander away with them."
New York Rep. Michael Grimm, a former FBI agent, said Turkish police still have hours of video footage to review as they piece together Sierra's last movements. A special unit of Turkish police set up to find Sierra has an image of her at Galata Bridge, which spans Istanbul's Golden Horn waterway and where she went on her last day to take photos. An FBI official confirmed to FoxNews.com that the agency is also involved and has been since the early stages of the investigation.
FoxNews.com's Cristina Corbin and The Associated Press contributed to this report.