Bodies of Air Force crew recovered from UK crash site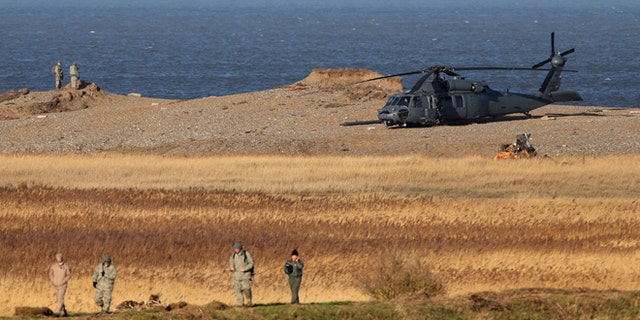 The bodies of four U.S. Air Force crew members have been recovered from the site of a helicopter crash in England, police say.
Capt. Christopher S. Stover, Capt. Sean M. Ruane, Technical Sgt. Dale E. Mathews and Staff Sgt. Afton M. Ponce died when their Pave Hawk helicopter came down in a marshland nature reserve on the Norfolk coast on Tuesday.
An ambulance was seen removing bodies from the marsh Thursday after what officials called a "complex" recovery operation.
Norfolk Police say there is no evidence the crash was a criminal matter. The U.S. Air Force will lead the accident investigation.
The aircraft was assigned to the 48th Fighter Wing at Royal Air Force base Lakenheath in eastern England. It was on a training mission when it crashed.
Pave Hawks -- a modified version of the better-known Black Hawks -- are often used for combat search-and-rescue missions, mainly to recover downed air crew members or other personnel during war and other hostile situations. They typically practice flying low and fast, often at altitudes of hundreds, rather than thousands, of feet.
Residents near the crash site said the helicopter sounded unusual just before the accident took place. Sue McKnespiey, who runs the Cookies crab shop in Salthouse with her husband, Peter, said the helicopter came over very fast and very low.
"I don't know about engines, but I am used to the sound of helicopters and this sounded very heavy and very unusual," she said. "My gut instinct was there was something wrong."
The Associated Press contributed to this report.