Bodies of 71 migrants found in truck along Austria highway, officials say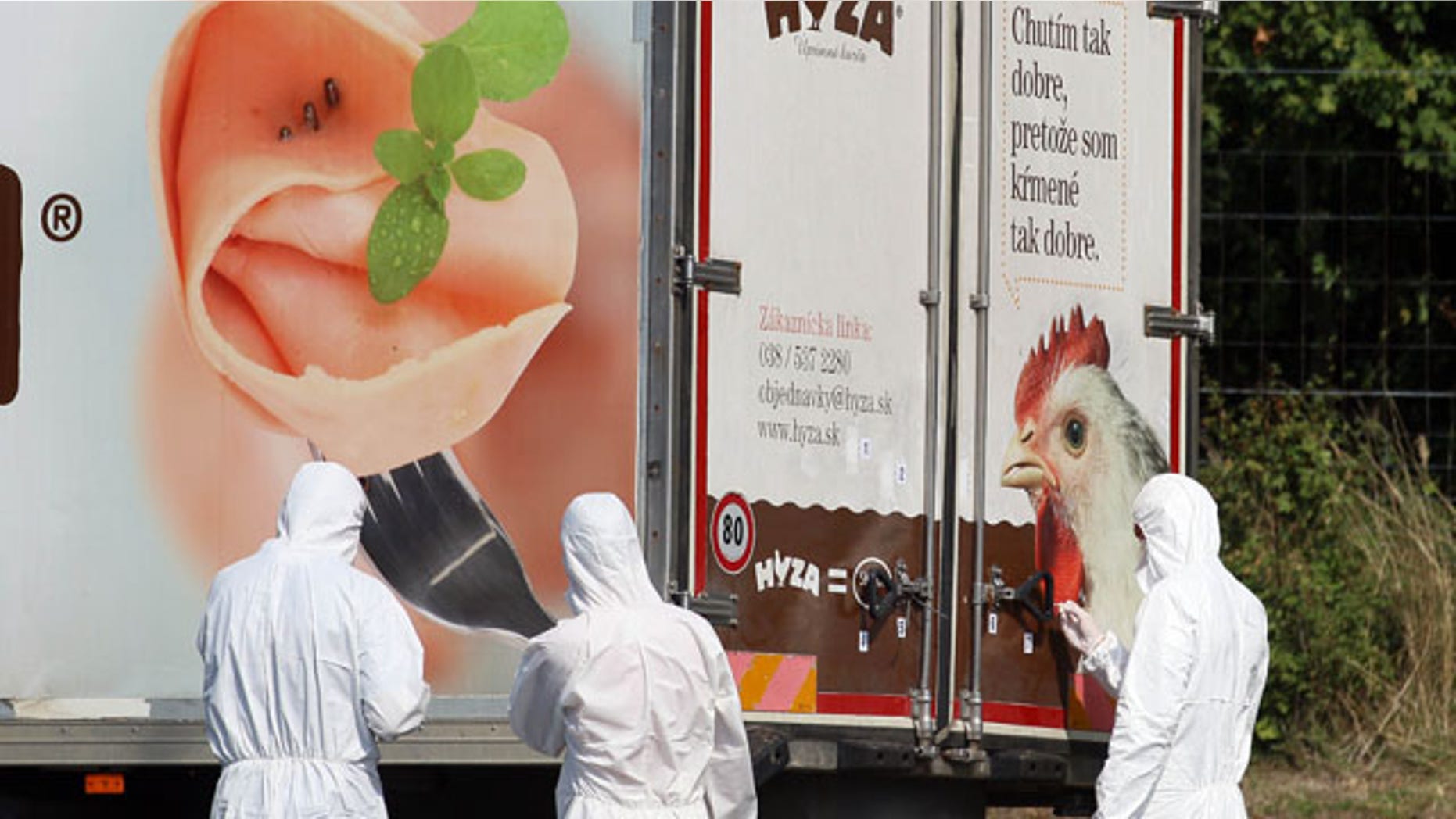 Austrian officials said Friday that 71 migrants likely suffocated many hours before their bodies were found in a refrigeration truck on the side of a major highway east of Vienna.
At a news conference, authorities confirmed the final number of victims and provided a further breakdown: 59 men, 8 women, 4 children. One infant was among the dead.
Hans Peter Doskozil, chief of police in Austria's eastern Burgenland province where the truck was found, said that Hungarian police detained seven suspects in the case overnight and arrested three of them early Friday. He said two of the suspects are Bulgarians, while the third has Hungarian identity papers. Doskozil also said a Syrian travel document was found among the bodies, which suggests that at least some of the victims were fleeing the violence in that nation.
The refrigerated truck was found parked in the safety lane of the highway from Budapest, Hungary, to Vienna on Thursday. The death toll was initially estimated at 20 to 50. The bodies were partially decomposed and police had the truck towed to a refrigerated warehouse before they began a body count and tried to identify them.
The case has shocked Europe as the continent struggles to cope with its worst refugee crisis since the end of World War II. At least 2,500 have died attempting to travel to Europe from the Middle East, Africa, and Asia. Most of those deaths have occurred at sea, where another tragedy was unfolding Friday as Libyan authorities counted bodies from two ships that capsized off the coast of that country. The U.N. refugee agency said 200 were missing and feared dead.
Thousands cross from Greece daily with the help of smugglers, aiming to reach European Union countries like Germany, Austria or Sweden and apply for asylum. The human traffickers may charge thousands of dollars per person, only to stuff them into trucks and vans so tightly that they often cannot move — or breathe.
The border between Hungary and Serbia has become a major entry point for asylum-seekers in recent days. Hungary on Thursday deployed more police on its porous border, but refugee activists said the effort appeared futile in a nation whose migrant camps are overloaded and barely delay their journeys into the heart of the EU.
Hungarian police reported a single-day record of 3,241 detentions Wednesday, 700 more than the previous day, as they launched a new initiative to channel migrants to one of the country's five camps using special trains. Under police escort, about 600 asylum- seekers boarded a train to be delivered directly to at least two migrant camps. Others continued to cross Hungary's 109-mile border with Serbia on foot.
News of the tragedy spread quickly to the thousands of migrants traveling on foot and by vehicle from Serbia into Hungary, a major entry point for EU asylum-seekers. They said they had heard stories before of smugglers lying to clients and dropping them far short of their promised destination or of abandoning them, sometimes still locked in trucks.
But they felt there often was little choice but to take such risks, given the physical toll of walking many miles on challenging — often guided only by a map on a smartphone.
Hassan El Ali, from the Syrian city of Aleppo, said smugglers can easily be contacted "face to face, but also through Facebook and Twitter." The 31-year-old who was camped on Serbia's border with Hungary said migrants used word of mouth to find "hidden pages and forums about how to cross the border between Hungary and Serbia."
The Associated Press contributed to this report.