Boat with 10 suspected North Koreans found off Japanese coast, coast guard says
A boat carrying 10 men suspected to be from North Korea was discovered drifting off a Japanese island, the latest in a series of odd Hermit Kingdom finds --including a skeleton-filled "ghost ship" and a body with North Korean words scribbled on it -- to wash ashore in Japan this week.
Japan's Coast Guard spotted the wooden boat rocking off the western coast of the northern island of Hokkaido on Tuesday, but, due to rough seas, were only able to reach the vessel Wednesday.
"[The 10 North Koreans] gestured 'yes' or 'no' to the questions we put on our electronic message board," coast guard spokesman Yuichi Chiba told the Japan Times. "We are now towing the boat to calmer water and plan to hold an on-site inspection inside the boat this afternoon."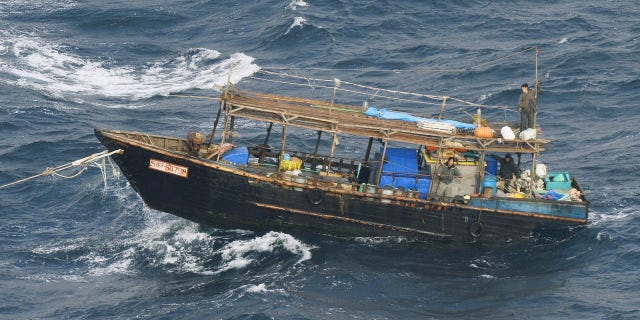 The Japanese government began investigating the decrepit boat and the men aboard Thursday. It's unclear if the men were defectors or illegally fishing inside Japan's 200-nautical mile exclusive economic zone.
The event adds to the string of unusual discoveries possibly involving North Koreans along the Japanese coast the last two weeks. Japan has been stepping up patrols after a recent spike in the number of boats turning up on its coasts.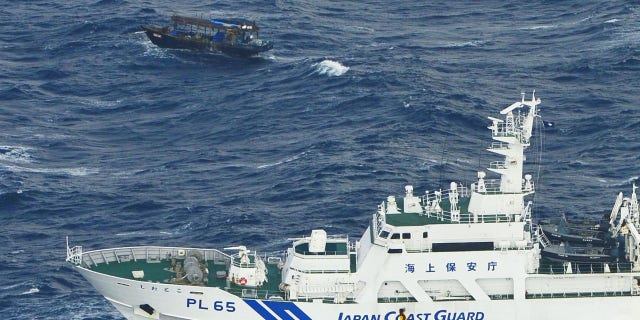 On Monday, Japanese authorities removed eight remains from a wooden boat that washed ashore Miyazawa Beach in Oga, Akita Prefecture, along the Sea of Japan, according to the Japan Times. So much time had passed since the men had died that many of the remains were "skeletonized." There were no clues left on the vessel indicating where it came from, puzzling officials seeking more answers.
Another body of a suspected North Korean man was found on Sado Island on Saturday. Korean letters, a pack of cigarettes and other personal belongings with North Korean writing was found on the man, leading officials to believe he was from the Hermit Kingdom. It's still unclear how he died.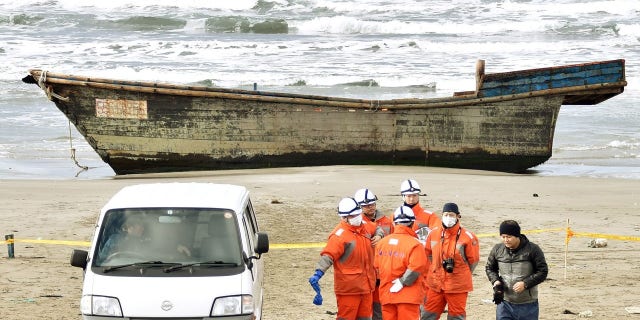 And on Thursday night, a boat with eight North Korean men was located near the seaside town of Yurihonjo. The fishermen, who were standing outside of the boat when police found them, appeared to have stopped at the shore because they were having boat issues. Police said they were most likely not defectors and were "hoping to return home soon" after about a month out at sea. The boat, carrying squid, also had a sign saying "Chongjin," possibly related to a major port city on North Korea's eastern coast, Kyodo News reported.
Dozens of boats and debris wash up on Japanese northern coasts yearly. This year, 59 cases — compared to 66 last year and down from 80 five years ago — have been detected, nearly half of them in November alone, according to the Coast Guard.
Officials said they were linked to a reported campaign by the North to send fishermen farther out for more catches. However, it's unclear if people aboard those boats that drift near Japanese shores each year intend to defect or are simply unable to make their way back in unseaworthy wooden vessels. Officials said the boats are frequently pushed toward Japan during winter due to a seasonal wind.
Japan and South Korea were placed on high alert after North Korea fired a Hwasong-15 intercontinental ballistic missile that Kim Jong Un's regime said was "significantly more" powerful than any of the previously weapons tested. Kim also said the missile puts all of the United States within range.
Japanese Prime Minister Shinzo Abe, who spoke with Trump, said Japan will not back down against any provocation and would maximize pressure on the North in its strong alliance with the U.S.
The Associated Press contributed to this report.