Bangladesh reviews labour law reforms after US move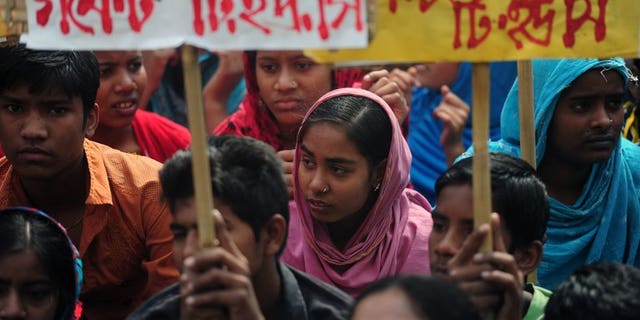 DHAKA (AFP) – Bangladesh has decided to review already announced labour law reforms after the United States last week cut its trade privileges over a deadly garment factory collapse, officials said Wednesday.
Bangladesh expressed outrage last week at President Barack Obama's decision to cut the country's duty-free trade privileges over the building collapse in April that killed 1,129 people.
The US said the Dhaka government had failed to protect the fundamental rights of workers, but Bangladeshi officials, desperate to persuade Western retailers to stay put, insisted it had drawn up legislative reforms since the disaster, the country's worst industrial accident.
Bangladesh's cabinet, led by Prime Minister Sheikh Hasina, this week set up a committee to again review the labour laws, the top civil servant, Musharraf Hossain Bhuiyan, told AFP.
"The committee will suggest further improvements to the labour laws taking into consideration labour rights, investment, productivity and the views of the importing countries," said Bhuiyan, the cabinet secretary.
The committee met on Tuesday in an effort to "review and improve" draft legislation already being debated in parliament, the top labour official told AFP.
"We're examining the safety related issues of the labour laws, with special emphasis on trade union and factory safety," Labour Secretary Mikail Shipar said.
"The US, the European Union and the International Labour Organization have expressed concern over safety-related issues," he said.
Big brand retailers from the US and the EU together buy some 80 percent of Bangladesh's $20 billion worth of garment shipments annually.
The government approved draft legislation in May just weeks after the disaster, which underscored appalling safety and other working conditions for employees of the country's 4,500 garment plants.
The reforms were aimed at making it easier to set up unions in garment factories as well as compensate workers involved in factory accidents.
Activists say only two dozen factories -- all small plants -- have allowed their workers to form trade unions. Workers in other factories face sacking or harassment for moving to set up a union.
But local union leaders rejected the reforms at the time, saying they failed to improve rights and entitlements for millions of garment workers, while export-oriented industrial parks were exempt.
The government also set up a panel to raise the minimum wage for garment workers and has shut down about two dozen factories for poor safety conditions.
The US cut the duty-free trade privileges last week, which had been accorded to Bangladesh under a programme known as Generalized System of Preferences (GSP). The system eliminates tariffs on imports from 127 countries to aid their development.