Bangkok Rushes to Dig Canals to Prevent Flooding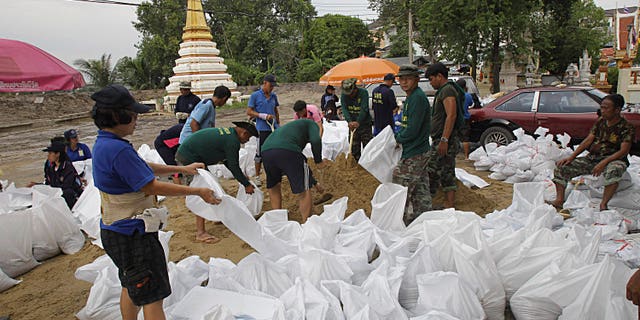 NEWYou can now listen to Fox News articles!
BANGKOK-- Workers hurriedly dredged canals and cut new waterways around Thailand's capital on Thursday in a desperate battle to protect the city from the country's worst floods in decades.
One jittery Cabinet official called for the evacuation of an area on Bangkok's northern outskirts, only to take back his warning 15 minutes later.
At least 283 people have been killed since late July by floods and mudslides that have devastated rice crops and shut dozens of factories.
Bangkok has been mostly spared so far, but some surrounding areas have been inundated and authorities fear that flood waters rushing from the north will combine with rains in the next few days to flood the city.
Buildings in many areas of the capital have stockpiled sandbags, while others have built protective walls from cement and cinderblocks.
Government spokesman Wim Rungwattanajinda said the main canals east and west of Bangkok will be dredged by Friday to allow more water to flow from flooded northern provinces. He said authorities are also digging canal shortcuts to help drive water to the sea.
"This is the best method at the moment" to protect Bangkok, Wim told The Associated Press.
"We are all working against time."
Prime Minister Yingluck Shinawatra said the operations will allow the water to exit through three major rivers instead of just one -- the Chao Phraya River which flows through Bangkok -- as the government initially planned, and will therefore relieve the impact on the capital.
Some 8.2 million people in 61 out of the country's 77 provinces have been affected by the flooding, which has also halted production at many major factories north of Bangkok.
Nervous residents have been stocking up on bottled water and other essentials. Science and Technology Minister Plodprasop Suraswadi contributed to the panic Thursday by telling a state-run television channel that residents in the northern outskirts of Bangkok should begin to evacuate because a flood gate had been breached.
Fifteen minutes later, Plodprasop appeared with other colleagues from the country's Flood Relief Operations Center on another live broadcast and said there was no evacuation order and the situation was under control.
Yingluck's government has been criticized for failing to take decisive action in the crisis, which has been building over several weeks.