Baby, 2 women among 13 killed by tree on Portuguese island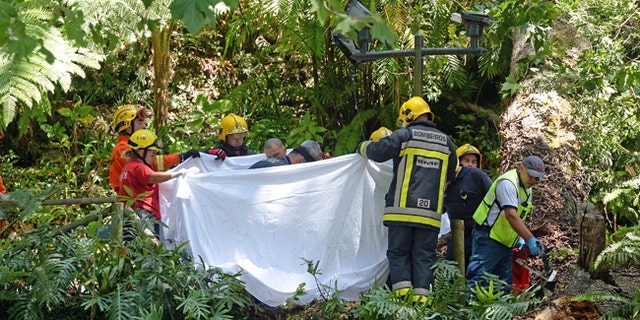 A 12-month-old baby and two foreign women were among the 13 people killed when a huge oak tree crashed down on an outdoor religious festival in Portugal's Madeira Islands, authorities said Wednesday.
The foreigners killed in Tuesday's accident were a 42-year-old French woman and a 31-year-old Hungarian woman, Miguel Reis, a local health official, told a news conference. Their names weren't provided.
Madeira, situated off northwest Africa, is a popular European vacation destination. Scores of people were gathered in a leafy square, listening to a Mass, when the tree on a slope above the square came crashing down as a choir sang.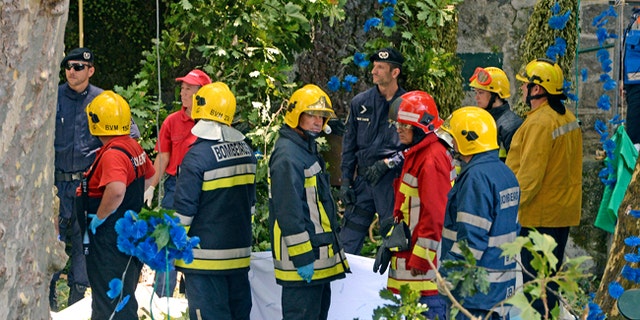 Local people told Portuguese media they had told officials that the tree was a danger, but the Funchal city council said it had received no warnings that a tree was unsafe. The public prosecutor's office opened an investigation.
MASSIVE TREE FALLS IN NYC'S CENTRAL PARK, INJURING 3 KIDS AND ADULT
Seven people, including two children, remained hospitalized of the 49 who were injured in Tuesday's accident, which occurred on a public holiday. The children are a 2-year-old French child and a 14-year-old Portuguese, Reis told a news conference Wednesday in Funchal, Madeira's capital.
He said officials hope to conclude autopsies by the end of the week.
Eight women and five men were among the dead. The regional government decreed three days of mourning beginning Wednesday.
Portuguese President Marecelo Rebelo de Sousa flew to Madeira to offer his condolences.