Australia's Elkington in Twitter 'Pakki' racism row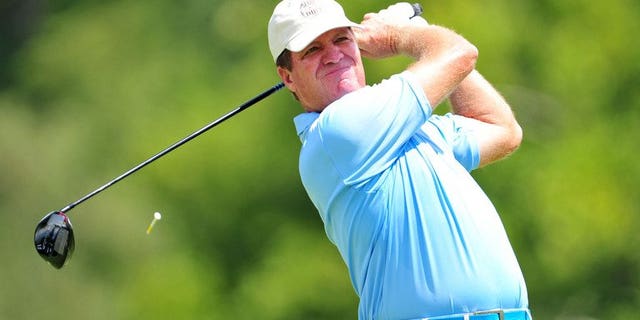 NEWYou can now listen to Fox News articles!
LONDON (AFP) – Steve Elkington became the latest Australian sports figure to be at the centre of a racism row when the golfer insisted Saturday he'd no idea 'Pakki' was an abusive term as he apologised for offensive Twitter messages.
The 1995 US PGA champion is competing at the Senior British Open at the Royal Birkdale course in Southport, a coastal town near Liverpool in north-west England.
But Southport, often considered 'posh' in relation to Liverpool, many of its inhabitants and indeed the local cuisine all failed to meet with the 50-year-old Elkington's approval.
"Couple caddies got rolled by some Pakkis (Pakistanis), bad night for them", Elkington posted Saturday.
This followed a Twitter post on Friday in which Elkington said: "Things about Southport -- fat tattooed guy, fat tattooed girl, trash, Pakistani robber guy, shit food."
A statement in Elkington's name was issued 20 minutes after he teed off in a third round where he shot a one-over par 71 on Saturday in which the golfer explained he had no idea 'Pakki', more commonly spelt as 'Paki' and long regarded in Britain as a highly offensive term, was an objectionable word.
"I am prepared to adhere to any disciplinary action that the Championship sees fit," Elkington's statement said.
"In my tweet I was referring to an unfortunate incident involving a caddie earlier in the week. Being Australian, I was unaware that my use of language in relation to the Pakistani people would cause offence, but having been made aware I now deeply regret the use of that terminology.
"Southport is a beautiful place and I have enjoyed playing at Royal Birkdale, as my positive content on Twitter has shown. My comments were born out of frustration over what had happened to a colleague."
Earlier the European Tour, which is overseeing the Senior Open, said it had spoken to Elkington about his "inappropriate and regrettable comments" and that they would be reviewed by officials before disciplinary action was considered.
"Steve has expressed his regret at his comments and wishes to apologise to the Championship and the people of Southport for any offence caused," said a European Tour statement.
Elkington's remarks followed May's controversy involving Adam Goodes, an Australian Rules footballer.
The Sydney Swans star, a member of Australia's indigenous Aboriginal community, was suggested as a good person to promote the musical King Kong by Eddie McGuire, a television presenter and president of rival club Collingwood.
McGuire's remarks came just days after Goodes was racially abused on the pitch by a Collingwood fan who called him an ape.
Racism has long been a thorny topic within golf, with many leading clubs, such as Augusta National, the home of the US Masters, once having a policy of banning non-whites from becoming members.
At the 1997 Masters, former winner Fuzzy Zoeller found himself having to apologise for remarks about Tiger Woods ordering fried chicken for the champions' dinner.
Meanwhile this year's Senior British Open saw German great Bernhard Langer, on nine-under par, establish a three-shot lead over South Africa's David Frost heading into Sunday's final round.