Australian senator apologizes for wiping his own blood on fellow lawmaker's door after scuffle in parliament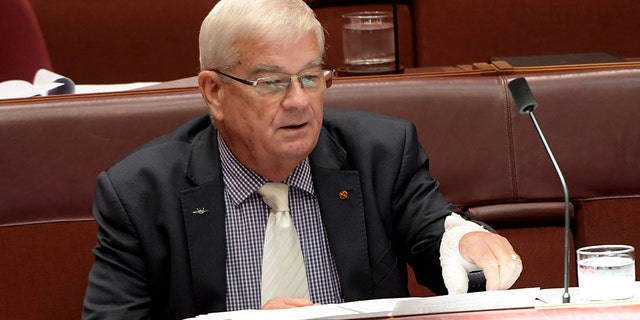 An Australian lawmaker admitted – and apologized – Thursday to smearing his blood on a fellow lawmaker's door after a scuffle.
Sen. Brian Burston admitted he wiped his bloody hand on the door of One Nation party leader Pauline Hanson on Wednesday, however bizarrely claimed he could not remember doing it.
"Whilst I do not recall the incident of blood on the door, I now have come to the conclusion that it was myself and I sincerely apologize for that action," he told the Senate, news.com.au reported.
The blood incident stemmed from a scuffle that turned violent between Burston and Hanson's aide, James Ashby, in the halls of parliament after an event they both attended Wednesday.
DOCTOR CLAIMS HOLOCAUST VICTIMS WERE BETTER OFF THAN AUSTRALIA'S OFF-SHORE ASYLUM SEEKERS
Burston told The Australian that Ashby ran up to him and his wife as they were leaving a dinner function and put a phone close to his face.
"I told him to f*** off," he said, adding that Ashby continued to harass him and his wife. "I lost it. I grabbed him and pushed him against the wall."
In a statement, Burston said he referred the incident to Australian Federal Police.
"Footage in circulation of an incident between Senator Burston and James Ashby does not show the entirety of what happened. The full assault on Senator Burston and his wife by James Ashby has not been depicted correctly," the statement reads. "The senator must be able to exercise his rights of self-defense, to protect his wife and himself. It is clear that James Ashby has set up Senator Burston to look badly for political purpose, all in breach of parliamentary rules."
GIANT PYTHON DEVOURS WALLABY IN AUSTRALIA, SHOCKING PHOTOS SHOW
Ashby claims he was trying to take pictures of Hanson leaving the same function when Burston attacked him.
The entire thing started earlier this week when Hanson used parliamentary privilege to accuse an unnamed senator of sexually harassing at least six staffers.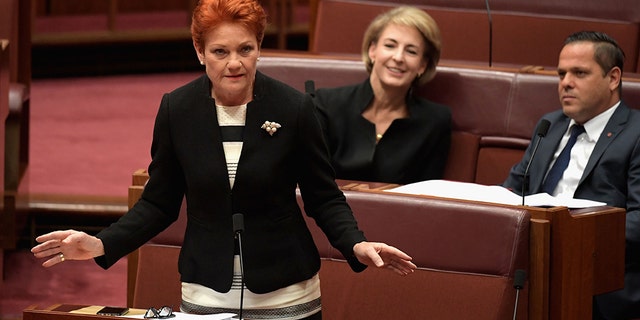 Burston later said he believed Hanson was speaking about him and strongly denied the allegations –accusing her of making unwanted advances towards him. Hanson called the allegations against her "an absolute joke."
Burston was once a member of One Nation but left the party after a falling out with Hanson. He now represents the United Australia Party.
On Thursday, Hanson claimed Burston needs "some anger management."
"It's a real shame. I don't need to see this, I hold this place very highly. What's happened is so wrong," she said, according to news.com.au.
On Thursday, the Senate revoked Ashby's parliamentary pass on Thursday, saying he had an obligation to protect the safety of senators and members.
"The video footage that I have reviewed records the reported incident between Senator Burston and Mr. James Ashby last night. It shows inappropriate conduct by a pass-holder towards a senator," Senate President Scott Ryan said in a statement.
CLICK HERE TO GET THE FOX NEWS APP
Ashby, who has not lost his job and simply cannot enter parliament, said there must be a full investigation of this matter."