At least 26 dead in Guatemala mudslide, many reported missing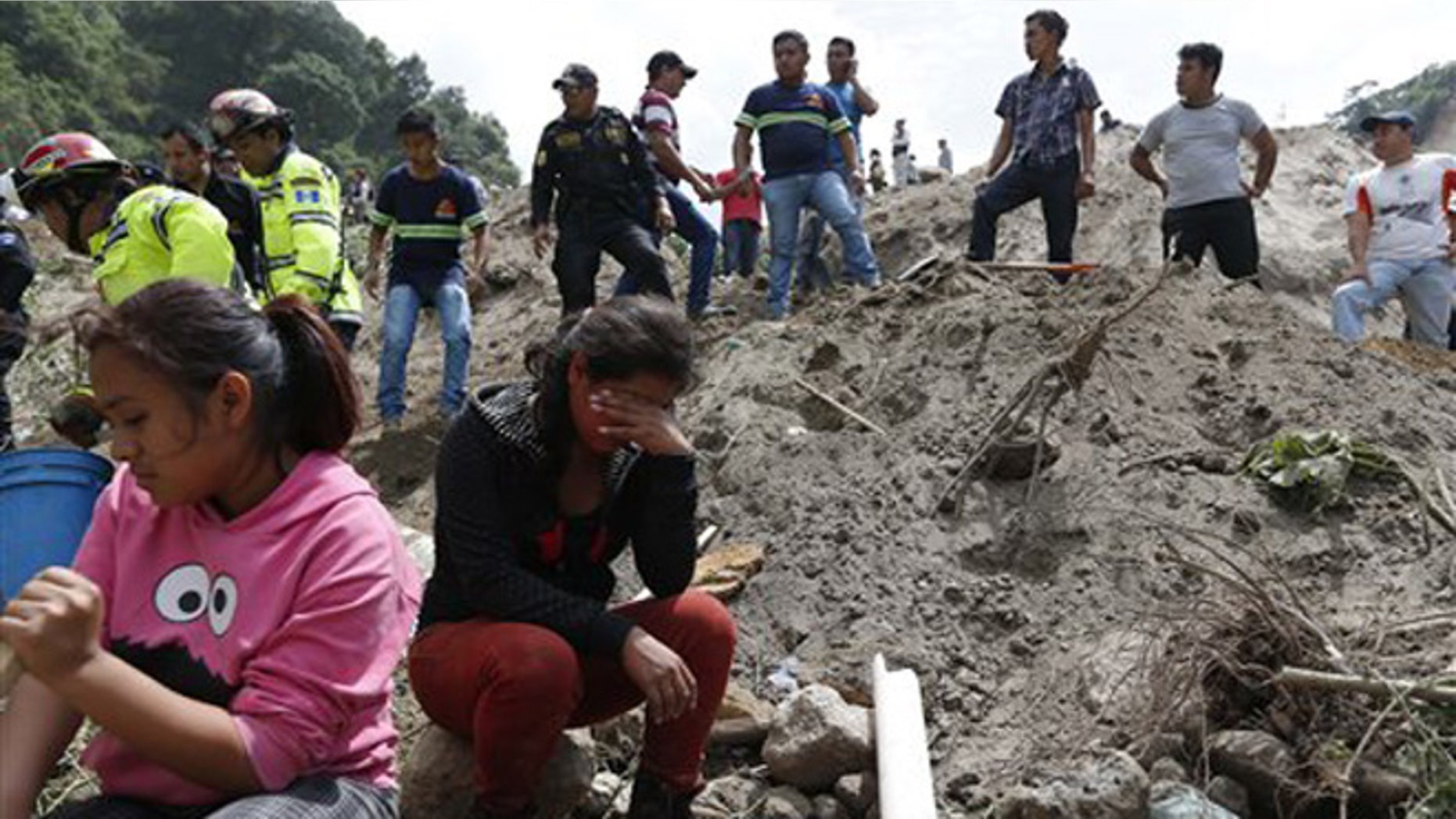 GUATEMALA CITY – A rain-sodden hillside about 300 feet high collapsed onto a neighborhood on the outskirts of Guatemala's capital with a roar and wave of sudden darkness, killing at least 26 people and sending 36 to hospitals.
Family members have reported 100 people missing, but the number could be as high as 600 based on at least 100 homes in the area of the slide, said Alejandro Maldonado, executive secretary of Conred, the country's emergency disaster agency.
Hundreds of rescue workers used shovels and backhoes in a desperate effort to reach survivors Friday, pulling one man alive from the rubble of his collapsed home more than 15 hours after the landslide hit late Thursday.
Julio Sanchez, spokesman for Guatemala's volunteer firefighters, said the dead, including two babies, were carried to an improvised morgue where weeping relatives identified their bodies, and families had shown up looking for people who hadn't been accounted for. He 36 people were taken to hospitals with injuries.
Among the bodies, rescuers found a mother embracing her two girls, said Carlos Turcios, a doctor who saw them when he came to help the rescue.
The hill that towers over Cambray, a neighborhood in the suburb of Santa Catarina Pinula, about 10 miles east of Guatemala City, partly collapsed onto a 200-foot stretch of the hamlet just before midnight, burying an estimated 68 homes.
Housewife Dulce del Carmen Lavarenzo Pu, 28, had just returned from church Thursday night when the wave of mud swept down just 150 feet from her home.
"I heard this terrible noise and everything began to shake," Lavarenzo Pu said. "Everything went black, because the lights went out."
Raul Rodas, an assistant village mayor, said about 150 families had lived in the area where the mudslide occurred, but didn't know how many might be trapped.
The man pulled alive from the wreckage, Rony Pu, 23, was rescued from a home near the edge of mudflow. But at its center, the landslide buried houses under a layer of rocks and earth as much as 50 feet (15 meters) deep.
Early in the day, Marleni Pu, 25, stood at the edge of the mudslide, her face swollen with weeping.
"My uncles, my cousins, my nieces and nephews are all there," she said, looking across the field of debris where about two dozen relatives had lived. "Six houses where my relatives lived are all under the hillside now."
Then searchers dug out her relative, Rony Ramos, and took him on a stretcher to a hospital. He had apparently been trapped in an air pocket, face down and unable to move. Authorities originally identified him as Ronny Pu.
"When our personnel were searching through the rubble, they heard a voice," said rescue worker Cecilio Chacaj. "They located the man, who was buried about two meters (six feet) under rubble."
He said rescuers worked frantically for five hours with jackhammers and saws to free Pu.
Some of the untouched homes in Cambray, which sits on the edge of a small river, were abandoned by their owners for fear of further mudslides.
Sanchez, the firefighter spokesman, said the dead included Quani Bonilla, 18, who played on the national squash team.