'Ashamed' Chelsea to invite black man targeted by fans in Paris to return game in London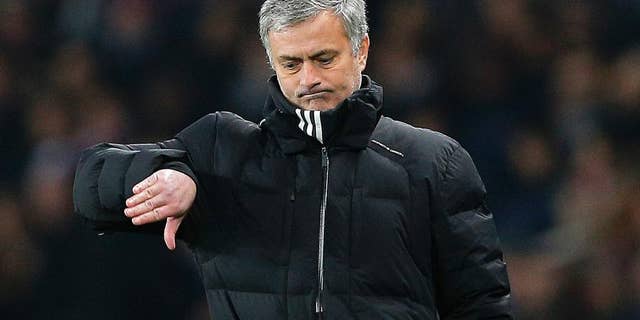 LONDON – Chelsea are planning to invite the black man abused by its supporters at a French metro station before a Champions League game against Paris Saint-Germain this week to its London stadium for the return leg.
The offer came as Chelsea manager Jose Mourinho discussed the Paris incident for the first time, saying Friday: "I feel ashamed with being connected with these sad things."
A group of Chelsea fans were filmed stopping the man from boarding a Paris metro train on Tuesday and then chanting: "We're racist and that's the way we like it."
"We feel very sorry about it," Mourinho said at Chelsea's training ground. "We want to fight it. We feel ashamed and we want to apologize to the gentleman."
The man has been identified as Souleymane S. by Le Parisien newspaper.
"We are writing to Souleymane," Chelsea spokesman Steve Atkins said during Mourinho's press conference. "We are inviting him and his family as guests to the return leg against Paris Saint-Germain (next month). We hope he will take up that offer."
Across London, Arsenal manager Arsene Wenger, who is French, described the incident before the game as "pathetic and dreadful" but said eradicating racism was a wider issue.
"(It is) society's problem," Wenger said. "More intelligent people than myself think about that and nobody has found a miraculous solution, it certainly starts from childhood education and an open-minded attitude.
"There is a danger of having radical people in every society. Since I observed youth movements, there are always certain people who are ready for radical solutions and most of the time you have to control them."
Chelsea suspended three people from its Stamford Bridge stadium as a result of an investigation into the incident, and they could face life bans.
FIFA President Sepp Blatter described the Chelsea fans as "incomprehensible" in his column in the organization's weekly magazine, which also highlighted criticism of former Italy coach Arrigo Sacchi this week.
Sacchi was denounced for saying that "there are too many colored players" in the youth sides of Italian clubs, which is affecting "national pride and identity."
Blatter said he did not want to "name and shame" Sacchi, referring to him only as the "former national team coach," and added: "I do not believe the unfortunate individual meant what he said."
But Blatter did say that "claiming to be misunderstood is no excuse."
"FIFA has fought all forms of discrimination for years, not always with the success we hoped for," said the 78-year-old Swiss, who is seeking a fifth, four-year term as FIFA President in May. "But we still do it — now more than ever. Respect for fellow human beings, valuing our differences, promoting diversity: this is the match we have to win, over and over again every day."
___
Rob Harris can be followed at www.twitter.com/RobHarris