Art hoarder's whereabouts unknown after German officials make estimated $1B discovery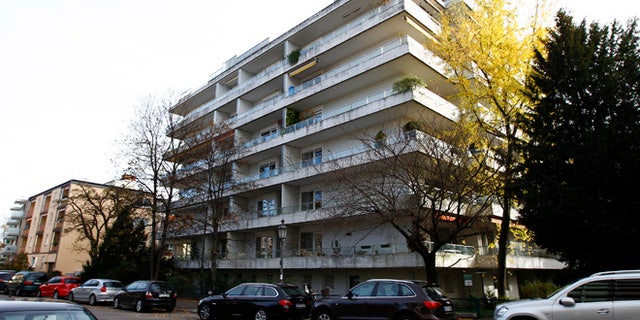 NEWYou can now listen to Fox News articles!
The mysterious painting hoarder who was revealed to have stashed more than 1,400 works in his apartment – estimated to be worth around $1 billion -- has disappeared after authorities made the discovery.
Investigators searched Cornelius Gurlitt's apartment in an upscale Munich district in February 2012, as part of a tax investigation that started with a routine check on a Zurich-Munich train in late 2010.
They found 121 framed and 1,285 unframed works — including by 20th-century masters such as Pablo Picasso, Max Liebermann and Ernst Ludwig Kirchner and earlier works by artists including Henri de Toulouse-Lautrec, Gustave Courbet, Auguste Renoir and Canaletto. The oldest work dates back to the 16th century. Some of the works are believed to have been missing since they were seized by the Nazis and one was a previously unknown piece by Marc Chagall, authorities said Tuesday, according to The Associated Press.
Prosecutor Reinhard Nemetz told reporters in the Bavarian city of Augsburg that investigators have turned up "concrete evidence" that at least some of the works were seized by the Nazis from their owners or classed by them as "degenerate art" and seized from German museums in 1937 or shortly after.
The art found in Gurlitt's apartment was hidden behind tins of food. When police arrested the 80-year-old, they discovered that he had never opened a bank account, had no German health insurance and was unknown to tax authorities and social services, The Guardian reports. He also appeared to have no job or source of apparent income.
Gurlitt reportedly remained in his bedroom without protest as customs officers raided the apartment, the German magazine Focus reports, according to The Guardian. He reportedly asked police why they couldn't have conducted the operation when he was dead.
The paintings were found in one room at the apartment, where they were "professionally stored and in a very good condition," said Siegfried Kloeble, the head of the customs investigations office in Munich. He said it took a specialist company three days to remove the art.
Kloeble said investigators "think it's unlikely that any more paintings were stored elsewhere" by the suspect.
Since then, Gurlitt has vanished. Officials have told The Associated Press that his whereabouts are unknown.
Nemetz said authorities are "not in contact with him currently," and there is no warrant out for Gurlitt's arrest, the AFP reports.
Gurlitt's name is on a plaque next to the entrance of his Munich apartment, but his official residence is listed to be in Austria.
A neighbor in Gurlitt's building in Munich told The Guardian that he never had visitors and did not answer his doorbell.
Officials are investigating whether Gurlitt was in wrongful possession of the paintings.
Gurlitt, the son of German art dealer and collector Hildebrand Gurlitt, inherited his father's painting collection after his death in 1956, The Guardian reports.
Hildebrand Gurlitt had been the appointed dealer for a planned art museum in Linz, where Adolf Hitler wanted to display looted art. After World War II ended, Hildebrand Gurlitt claimed the art was destroyed in the bombing of Dresden.
"Degenerate art" was largely modern or abstract works by artists that the regime of Hitler believed to be a corruption influence on the German people. Their "deviant" characteristics were often attributed to Jewish corruption.
Meike Hoffmann, an expert on "degenerate art" at Berlin's Free University who is helping the investigation, presented pictures of a selection of works from the collection found in Gurlitt's apartment.
They included a painting by Chagall that Hoffmann said isn't included in lists of the artist's work.
"These cases are, of course, of particularly high art history significance for researchers," she said. Experts haven't yet been able to determine where the Chagall came from, she added, describing the research as "very, very difficult."
Hoffmann also presented an unlisted painting by Henri Matisse, apparently dating back to the 1920s.
"When you stand in front of the works, see the ones that were long thought to have been lost or destroyed and in a relatively good state — some of them dirty but not damaged — you have an incredible feeling of happiness," Hoffmann said.
The Associated Press contributed to this report.