Argentina plans 'silent march' to protest death of prosecutor investigating bombing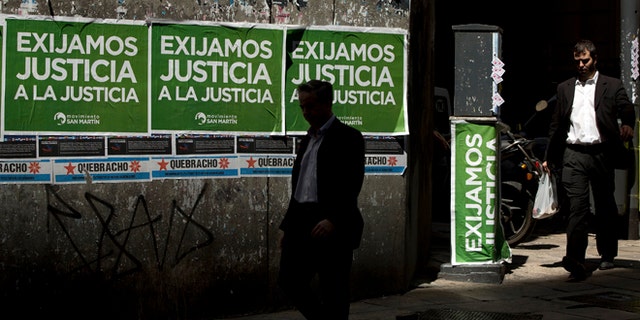 BUENOS AIRES, Argentina (AP) – Security forces patrolling near a Wednesday protest march over a prosecutor's mysterious death will not be allowed to carry weapons in order to avoid "provocations," Argentina's security chief said Tuesday.
The silent march was being organized by a group of prosecutors to demand answers in the gunshot death of Alberto Nisman, a prosecutor who was investigating the country's worst terrorist attack.
Several opposition parties also planned to participate, raising tensions as government officials said the demonstration was politically motivated.
Argentina has been rocked by the Jan. 18 death of Nisman, who alleged that President Cristina Fernández and her allies shielded Iranian officials accused of being the masterminds of a 1994 bombing that killed 85 people at a Jewish community center in Buenos Aires.
Fernández denied the allegation, as did Foreign Minister Héctor Timerman.
The government has suggested Nisman was misled by intelligence sources, and Timerman on Tuesday seemed to be criticizing the U.S. in relation to the case.
Without specifically mentioning Nisman, Timerman said he sent a letter to U.S. Secretary of State John Kerry saying U.S. diplomats should not interfere in Argentina's internal affairs. Timerman gave no examples of any such activities. Calls to the U.S. Embassy after working hours were not answered.
Timerman has made similar comments in recent weeks, and other top Fernández administration officials have lashed out at members of U.S. Congress who have suggested American agencies help in the Nisman investigation.
U.S. officials in Argentina are not involved in the investigation and American-Argentine relations have been particularly tense over the last year because of fights in a U.S. court over debt repayment by the South American country.
On the eve of the protest march, Security Secretary Sergio Berni said federal agents within a five-block perimeter around the demonstration won't carry weapons because "there could be provocations."
Berni said that while he respects the planned demonstration, he saw it as a politically motivated move against Fernández's government.
Local prosecutor Ricardo Saenz, one of the march organizers, dismissed Berni's accusations as ludicrous. Commenting on this "is like answering whether I'll be traveling to the moon next week," he said.
Nisman was found dead of a gunshot wound in his apartment shortly after he presented a report claiming Fernández had agreed to shield former Iranian officials implicated in the bombing in exchange for favorable trade benefits. Fernández and Iran both deny the allegations.
Conspiracy theories swirl around Nisman's death, as well as the bombing, which has never been solved. Polls say many Argentines suspect officials had some hand in the death, while Fernández's aides have suggested he was killed as part of a plot to destabilize and bring down the government.