Argentina official calls prosecutor a 'liar,' says accusations against president 'despicable'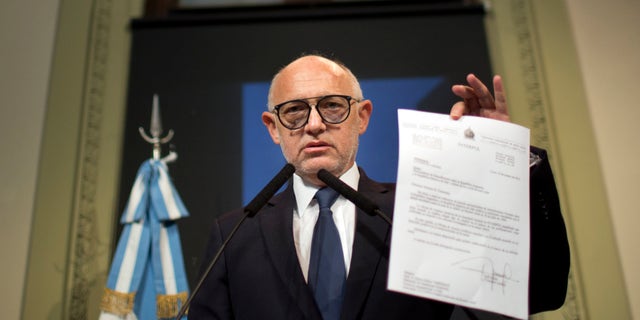 BUENOS AIRES, Argentina (AP) – Argentina's government called a leading prosecutor a liar on Thursday for accusing President Cristina Fernandez of secretly negotiating with Iran to avoid punishing those responsible for the country's worst terrorist attack.
Prosecutor Alberto Nisman on Wednesday asked a judge to call Fernandez, Foreign Minister Hector Timerman and others for questioning about the 1994 bombing of the Argentine-Israeli Mutual Association in Buenos Aires that killed 85 people.
On Thursday, Timerman called the prosecutor's accusations "despicable." Reading from a statement, he said Fernandez has made great strides "in the search and punishment of the perpetrators of the brutal attack."
The prosecutor's accusations "only demonstrate the level of confusion and paralysis" in the unsolved case, Timerman said.
A federal judge must now decide whether to hear the prosecutor's complaint and whether anyone should be summoned for questioning.
In 2013, Nisman released an indictment accusing Iran and Hezbollah of organizing the bombing. Iran has denied any wrongdoing.
Argentina and Iran later reached an agreement to investigate the attack.
The joint Argentina-Iran truth commission has been fiercely defended by Fernandez's government as the best means of resolving a case that has moved forward only in fits and starts in Argentina's judiciary and been frustrated all along the way by Iran's refusal to cooperate. But the probe has not advanced and the victims' relatives believe the agreement has protected the perpetrators.
Mohsen Rabbani, a former Iranian cultural attache in Buenos Aires, and Iran's former intelligence minister, Ali Fallahian, are among the suspects. The prosecutor has tried for years to get Rabbani and other suspects extradited to face trial in Argentina.
Like us on Facebook
Follow us on Twitter & Instagram