Argentina: Ex-official caught with millions now in hospital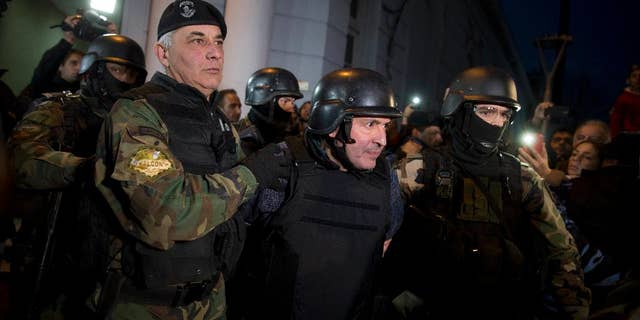 NEWYou can now listen to Fox News articles!
BUENOS AIRES, Argentina – An official in the former government of President Cristina Fernandez who was arrested as he allegedly tried to hide $9 million in cash at an Argentine monastery has been transferred to a local hospital.
Police officers arrested former Public Works Secretary Jose Lopez Monday at a monastery on the outskirts of Buenos Aires. They discovered wads of cash in dollars and three other currencies in more than 160 packages.
The case has outraged Argentines who are frustrated with endemic corruption.
Local TV stations showed images of Lopez being escorted by police Tuesday to a hospital wearing a helmet and a bulletproof vest.
His lawyer said Wednesday that he's suffering a "psychotic episode." Fernanda Herrera also tells reporters that Lopez is "hearing voices, is delirious and is suffering from panic attacks."