'Spreading like a poison': Anti-Semitic acts increase in France
PARIS – A spate of anti-Semitic incidents has accompanied France's yellow-vest protests in recent weeks, raising fears that the movement is stirring up hatred in the nation that is home to Europe's largest Jewish population.
On Saturday, protesters clad in reflective yellow vests were filmed accosting Alain Finkielkraut, a prominent public intellectual, as he walked with his stepmother on the street in Paris, calling him a "dirty Zionist s—" and other insults.
A video of the incident went viral online, prompting condemnation from French President Emmanuel Macron and leaders across the French political spectrum.
"The anti-Semitic insults targeting him are the complete negation of who we are and what makes us a great nation," Mr. Macron said in a tweet. "We will not tolerate them."
ANTI-SEMITIC GRAFFITI SPRAYED ON PARIS BAGEL SHOP COMPARED TO SIMILAR ACTS IN NAZI GERMANY
The Paris prosecutor's office opened an investigation into the incident.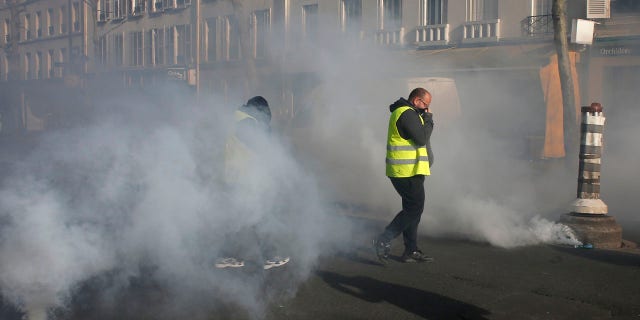 Since the yellow vests, or gilets jaunes, took to the streets in November, a dark undercurrent of violence, conspiracy theories and, at times, outright racism has flourished at the margins of the movement. French police have arrested thousands of rioters and looters; dozens have been charged with assaulting police.
FRENCH GOVERNMENT SOUNDS ALARM OVER RISING ANTI-SEMITIC ACTS
Concerns about anti-Semitism mounted after the previous weekend's protests. Someone spray painted "Juden" on a Bagelstein, a French chain of bagel restaurants. A Nazi swastika was also spray painted on a portrait of Simone Veil, a French Auschwitz survivor who became president of the European Parliament.
CLICK HERE TO GET THE FOX NEWS APP
Last week, the government said anti-Semitic incidents in France rose 74% in 2018 compared with the previous year. "Anti-Semitism is spreading like a poison," said Interior Minister Christophe Castaner.
"You can't reasonably link that to the gilets jaunes," Benjamin Griveaux, the French government spokesman, said on Saturday. "But suffice it to say that inside these protests, as a minority, there are elements from the extreme left or extreme right who are anti-Semitic."
Click here for more from The Wall Street Journal.