Another One Bites The Dust? Venezuelan Opposition Leader Facing Dismissal From Congress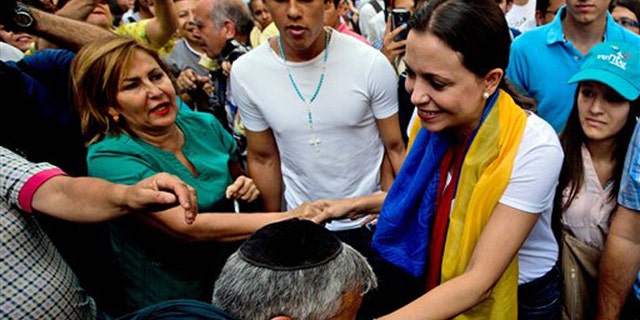 In a move that has the Venezuelan opposition claiming the country's highest judicial body lacks independence, the country's Supreme Court sided with President Nicolás Maduro in a move to strip a top opposition congresswoman of her elected title.
The Venezuelan parliament last week stripped opposition deputy Maria Corina Machado of her seat for violating the county's constitution by accepting a public speaking position in another country without the approval of Venezuela's congress.
Machado spoke about Venezuela's political crisis at the Organization of American States in Washington last month as an invited guest of the Panamanian government, without informing Venezuelan leaders and without obtaining formal approval for her appearance.
In its ruling, Venezuela's Supreme Court said Machado's move was "not only detrimental to the legislative function for which she was elected, but in clear contradiction with her duties as a Venezuelan and as an assemblywoman," according to the Wall Street Journal.
Machado lashed out at the ruling social media, calling it "institutional conspiracy" and refusing to step down from her congressional position.
"They cannot silence us," she tweeted. "Today, more than ever, I am a congresswoman and I assume my responsibility to be the voice of Venezuelans in and out of the National Assembly."
Her ouster from Venezuela's congress also ends her immunity that legislators in the South American country had granted her, paving the way for subsequent prosecution and jail time if the Maduro administration decides to prosecute her. If sent to prison, she would join Leopoldo López and San Cristobal mayor Daniel Ceballos as other prominent opposition leaders behind bars in Venezuela.
Venezuelan National Assembly head Diosdado Cabello said last week that Machado could be under investigation for inciting civil unrest and for "treason to the fatherland," going as far as saying that she could be banned from entering the parliament's parking lot.
For her part, Machado plans to hold a rally Tuesday afternoon before heading to Congress in an attempt to confront pro-Maduro lawmakers.
Since clashes began between protestors opposed to the Maduro administration and pro-government forces, nearly 40 people have been killed as furor continues to escalate over a crumbling economic situation and widespread violent crime.
Human-rights groups assert that most of those killed have been by security forces and pro-government militant groups, but several National Guardsmen have also been killed in confrontations with street protestors.
The Associated Press contributed to this report.
Follow us on twitter.com/foxnewslatino
Like us at facebook.com/foxnewslatino