Annan turns to Clinton to help enforce Syrian ceasefire, end bloodshed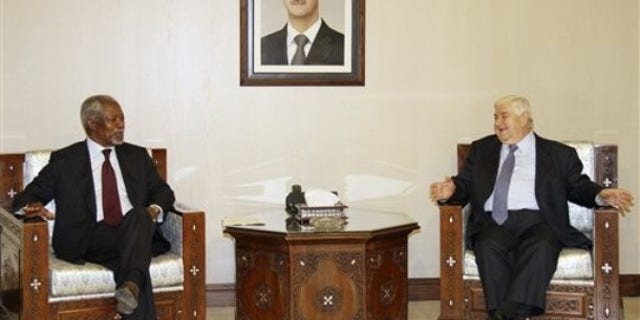 NEWYou can now listen to Fox News articles!
Faced with failed efforts to end the political violence in Syria, United Nations envoy Kofi Annan is turning to Secretary of State Hillary Clinton for help.
Annan, the U.N.-Arab League special envoy for Syria, is scheduled to travel to Washington on Friday to meet with Clinton, Reuters reported Monday.
Annan does not support expanding the U.N. mission to monitor the ceasefire between Syria President Bashar al-Assad and rebel forces, spokesman Ahmad Fawzi told the wire service.
His decision follows the May 25 massacre of roughly 108 Syrians -- nearly half of them children -- in the Houla area of Homs province.
This weekend, Syrian rebels killed at least 80 army soldiers in a series of attacks, according to a watchdog group.
Roughly 300 United Nations observers have been in Syria since mid-April to monitor the truce.
An estimated 9,000 Syrians have been killed by government forces since the uprising against the brutal regime started about 15 months ago.
Annan is scheduled Thursday to brief the U.N.'s Security Council and General Assembly in New York, then travel to Washington.
"As Mr. Annan told Mr. Assad and other interlocutors, the plan is not being implemented as it must be, by either side," Fawzi told Reuters in Geneva. "The time may have come to review the situation and the international community has to decide what measures it can take to ensure implementation of the plan."
Annan returned over the weekend to his Geneva office from talks with Assad in Damascus, as well as talks in Lebanon, Jordan and Doha, Qatar, where he addressed an Arab League ministerial meeting.