American veteran detained in North Korea says he was kept in hotel room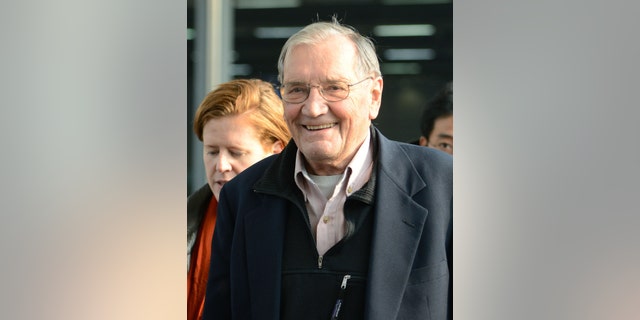 A day after arriving home to California, the 85-year-old U.S. veteran detained for weeks by North Korea said Sunday that he was well-fed and kept comfortable in a hotel room, not a jail cell.
Merrill Newman spoke briefly with the Santa Cruz Sentinel outside his vacation home steps from the beach in Santa Cruz, a coastal community about 75 miles south of San Francisco. Newman and his wife also live about 45 miles north in a Palo Alto retirement home.
He was detained in late October at the end of a 10-day trip to North Korea, a visit that came six decades after he oversaw a group of South Korean wartime guerrillas during the 1950-53 war.
Newman told the newspaper "that's not my English" when asked about the video North Korean state media released last month showing him reading an awkwardly worded alleged confession apologizing for, among other things, killing North Koreans during the war.
Analysts questioned whether the statement was coerced. Newman hasn't discussed the circumstances of the alleged apology, but it was riddled with stilted English and grammatical errors, such as "I want not punish me."
The former South Korean guerrillas who had worked with Newman and fought behind enemy lines during the war disputed some of the details of the statement.
Newman also said Sunday that his wife is now in charge of his passport when asked if he planned any more international travel.
Newman cut short the impromptu interview after a few questions.
The veteran's family didn't respond to an email from The Associated Press requesting an interview. His son, Jeff Newman, said the family planned to talk about Newman's experience in greater detail sometime later after he has recuperated.
Newman arrived at San Francisco International Airport from Beijing shortly before 9 a.m. Saturday and was greeted by his wife, son and friends.
"I'm delighted to be home," he said. "It's been a great homecoming. I'm tired, but ready to be with my family."
He also thanked the Swedish Embassy in Pyongyang, North Korea, and the U.S. Embassy in Beijing for helping secure his release.
North Korea cited Newman's age and medical condition in allowing him to leave the country.
Rep. Adam Schiff, a California Democrat, said on CNN Sunday morning that North Korea's reason for detaining Newman may never be completely explained. He said North Korea's internal politics, the country's desire for global attention and other wants could have prompted Newman's detention.
"They often will grab people to gain attention, to get a world leader to come and rescue them from North Korea," Schiff said. "It may be a shout to the rest of the world that we want you to pay attention to us again and our nuclear program or it may be simply confined to something Mr. Newman said that caused him to be taken off the plane."