American imprisoned in Venezuela as spy complains about conditions, pleads for release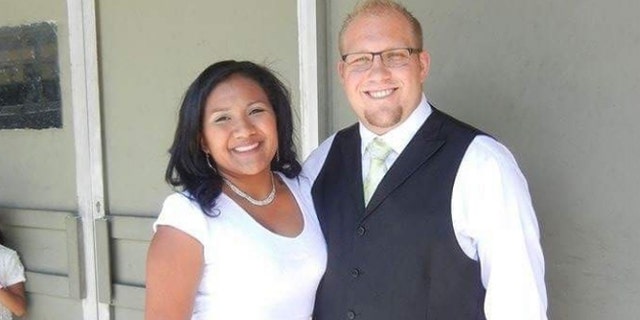 A man from Riverton, Utah, Joshua Holt, imprisoned in Venezuela for nearly two months, wrote home to complain about "this horrible place where demons stroll the hallways."
Holt, 24, a former Mormon missionary, traveled to the country to marry his sweetheart, but what should have been the happiest time in his life has turned into a nightmare.
Two months ago, according to the Associated Press, police raided the public housing complex where he was staying with his Venezuelan bride, Thamara Caleño Candelo, while they awaited her U.S. visa. Authorities claimed to have found an assault rifle and are holding him on suspicion of being an American spy.
His mother, Laurie Holt, posted a typed transcript of the handwritten message on Facebook that she recently received from her son that he gave Venezuelan mother-in-law after a recent jailhouse visit.
In it, Holt says police planted the weapon and had demanded $10,000 to leave him alone.
He says the police "did and said horrible things" to his wife to coerce to testify against him.
Josh Holt says he being held in a cell that fits "a twin size bed, with two windows about 12 feet above the ground."
"I am not a bad person," Holt wrote. "I have never done anything in my life which gave me problems with law enforcement. I was sure any moment I was going to wake up."
He described medical issues that he's had since being incarcerated.
"I have had one sickness after another – kidney stones, bronchitis and now have something that makes me itch like I have never itched before," he wrote. "I had times where I could barely breathe. The judge approved not one time, but twice for me to go to the hospital, however I have never left the jail."
Caleño Candelo is being held in the same jail, which, Holt claims, "is filled with lots of innocent people that have been here for many years, which terrifies me knowing that we are innocent. I have been told by 10 or 20 people, prisoners, and guards, that I am here because I am American. I have also been told by guards that Americans have no rights here."
Holt, who had recently completed a Church of Jesus Christ of Latter-day Saints (LDS) mission in Washington State, met his future wife through LDS.org. The two began communicating over the next several months, and, in the late spring, he flew to the Dominican Republic to propose to her – despite having never met her in person before.
"The two just began chatting, and pretty soon they fell in love," Laurie Holt told Fox News Latino recently.
Despite warnings from his family – and even his fiancé – about the dangers, Holt decided to travel to Venezuela on June 11, and the two were wed five days later. After spending their honeymoon on a Venezuelan island, the newlyweds returned to Caleño Candelo's home in the Caracas suburb of Ciudad Caribia, where she lives with her 5- and 7-year-old daughters from a previous relationship.
The family has set-up a GoFundMe page to raise funds for Josh's legal defense that has raised nearly $13,000 in one month.
Laurie has said they are wary of sending money to Venezuela until they are certain it will go to working on his case. Holt was previously being represented by a public defender, but his wife's family hired a private attorney to represent the couple.
"The only thing I can do is beg the Lord to soften the hearts of [these] people and that of the government," Holt wrote in his letter. "If the government is reading this, I beg of you to help free my wife and I – we are innocent, and we just want to be together and have a family."
According to Holt, his lawyer has told him that he will have to remain in jail until at least Sept. 15.
Fox News Latino reached out to Laurie Holt on Tuesday, but she declined to comment. "I'm sorry, I'm not doing so well today," she explained in a message. "I'm so overwhelmed."